How I dropped 18lbs and 8% body-fat with DSC's Nutrition Group!
Need help in making 2018 your most fit year yet?
Join our Nutrition Coaching Group starting January 8th!
---
I am so honored that I was asked to share my continued DSC success journey with all of you.
My journey began In June 2015, just a little over 2 1/2 years ago.
Briefly before that I had taken a few drop in classes here and there. That's when I got the unexpected surprise of my life.
I was expecting my second child.
Ok, so I thought I could be one of those super impressive, fit pregnant moms who could keep up with my daily and weekly workouts like I have seen so many others do at DSC..
Well let's just say that DID NOT happen!
That was extremely emotional and mentally very difficult for me to accept, as we all know that the DSC workouts work so much more than just our exterior! DSC is good for the mind, body and soul.
Nine months later I eagerly returned to take my first DSC class 4 weeks after the birth of my son.
Oh and this time with an extra 30+ lbs of pregnancy weight that had made itself very comfortable on my body.. YET AGAIN! NO not again! Ughhh!
It's the yo-yo and it has happened MY ENTIRE life. So relatable to many.
So back to square 1, back to restart all over again! This was emotional and a hard reality to accept but I was ready.
I had missed MY gym, trainers, members, friends, better yet, my FAMILY!
I missed all the DSC workouts and the way they made me feel physically, mentally and emotionally. I needed DSC back in more ways than one.
Naturally my stamina had declined and was basically nonexistent. I remember I could not do one single push up! How did I lose the strength and endurance I once had so quickly? I felt so defeated.
That was very upsetting. But it was exactly the motivation I needed. I made a promise to myself to work hard and fully commitment to the gym, but most importantly to myself. Hoping to become healthier, active and stronger than ever before.
I attended (and still do) classes 5/6 times per week.
I make it a top priority for my self which can be difficult for us parents because we put ourselves last on the list ALWAYS. Making so many sacrifices for our kids, family, work etc. we can easily forget what we need and so deserve.
I made good progress that first year; it was very slow and it definitely did not happen over night. Eventually I was getting closer to my pre-pregnancy weight though with my stamina slowly starting to come back and was feeling pretty good! I had worked hard it was starting to show!
But then..YES, you guessed it! I was stuck! I hit a wall, a plateau, whatever you want to call it. No matter how much I would push and challenge myself at DSC I could not seem to make the scale move. I wanted to continue to change my body shape, lose weight, and work on building lean muscle.
I remembered a quote that I once read that said "YOU CAN NOT OUT TRAIN A POOR DIET".
I said to myself, "I eat 'pretty good' most of the time so I'm sure that's not my issue." I would go on and off with any and all fad diets that I thought would actually work. As I know now those are just temporary fixes and are not sustainable over time.
I couldn't seem to figure it out. Nothing was working. It was so frustrating!
Well it was because I had no clue about real food, proper nutrition and balance. Boy oh boy I had so much to learn!!
I had seen and witnessed so many nutrition success stories happening right in front of my eyes at DSC. Some of my closest friends, and even my workout partner and BFFs Beth and Karen had incredible transformations.
What ever they were doing was ACTUALLY working! They had huge success and looked and felt fabulous! I knew that was exactly what I needed!
I joined the Nutrition Program this past May and my journey continued...I quickly realized I would face a boatload of real life obstacles and struggles almost instantly once the program got underway.
Memorial Day weekend, being on the go, multiple weekends of hotel and sports travel, July 4th BBQ's, summer time beach and lake parties, poolside gatherings. How could I possibly have success and see results with all of the above challenges?
But see that is where I was wrong.
I quickly learned how to live and sustain a balanced nutritional ENJOYABLE lifestyle without depriving myself. Making mindful smart choices and finding a do-able healthy balance between food, fun and real life!
I will tell you honestly right now I DID NOT deprive myself. Not for one second!
I gained the knowledge I needed about food, macro nutrients, pre and post workout meals. And how they will all make a difference with my performance, strength and stamina in the gym.
This was NOT a diet!
I had accounted for, planned and logged everything I would eat. The great choices and the not so good ones! I remembered the 80% rule and to be mindful when making my choices.
I was so intrigued to learn about what I was eating and how my choices could affect my progress or potential lack of.
I felt fulfilled and completely satisfied with each and every meal now because I was finally getting it right! I had the correct knowledge I needed. I finally GOT IT and surprisingly it wasn't difficult!
My bad habits were slowly starting to go away and new healthy habits were easily and seamlessly replacing them one by one.
I felt in control.
I started seeing the results I had hoped for.
I have lost 18 lbs, over 8% body fat, and my BMI went from a very high unhealthy range to a normal good range!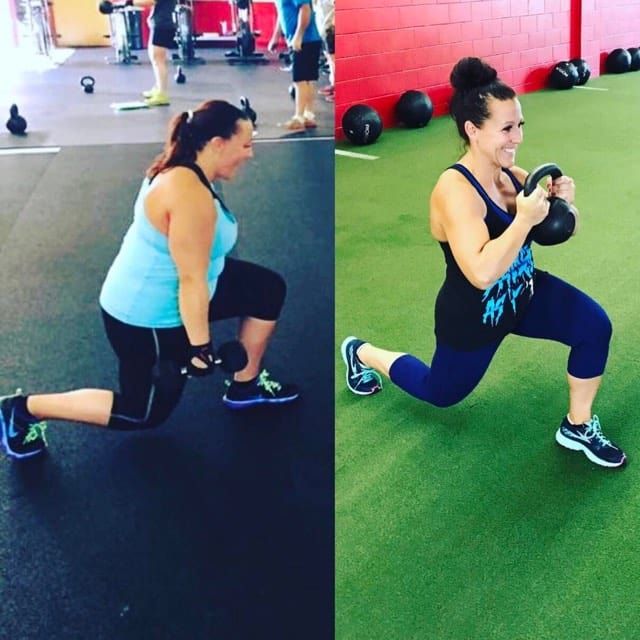 I was more proud of that than any of the other results or number on the scale.
Living most of my childhood and adulthood with an unhealthy BMI and then finally being able to change it was a HUGE accomplishment! I was ecstatic.
My success wouldn't have been nearly as possible if it wasn't for my very special friend (you know who you are) who believed in me and knew that that nutrition program was exactly what I needed. Thank you from the bottom of my heart!
My husband who was my biggest cheerleader and supporter, helping me by following and committing to the program right along with me.
The trainers and nutritional coaches, your expertise and constant dedication is top notch. I am so lucky to have all of you! There is no place I'd rather be.
DSC and 9am crew thank you for inspiring me on a daily basis.
Beth my buddy, my sidekick, my workout partner, my personal nutritionist, my therapist, my friend. We are the perfect pair and you are amazing. You push me past my comfortable limits. Challenging me to be greater than I ever believed I could. You brought out this friendly competitor in me that I never knew existed. You showed me that if I work hard enough anything is possible. Forever grateful and lucky to call you my friend.
MATT.. oh silly costume wearing, funny dancer, full of life. The heartbeat and spark of DSC. You are generous, selfless, kindhearted, and so dedicated to DSC and all of your members. All of our success stories start with you! You created something so unique and so special within DSC that make us all happy and proud to be apart of the FAMILY! Thank you for being you!
The journey will never end for me...there will always be new goals and new accomplishments that I will desire to achieve. I just believe and know now that they ARE and will ALWAYS be possible! I'm sure I will have setbacks of course because that is real life. And that is ok!
Besides now I have the tools, support and motivation to get back on track to keep going and continue on.
- Colleen
Our Next Nutrition Coaching Group starts January 8th!
[spaces are filling quick]
Click below to register!