How DSC prepared me for Division 1 Athletics!
I wanted to play Division 1 golf.
With this goal of playing golf at the highest level, I played and practiced every single day to improve my game.
Back in the fall, I noticed that my distance wasn't where it needed to be competitive in the world of collegiate golf. As much as I would exert myself trying to improve my swing speed and techniques, I seemed to be stuck.
That's where DSC came in.
Before I discovered DSC, a typical workout consisted of mostly cardio.
I would go on daily runs thinking it was enough to keep me in shape for tournament season. I also did various other basic exercises such as push ups and squats at very low intensity.
When I came to DSC, I realized everything I was doing wrong and why I wasn't improving my distance.
I needed to build muscle whereas I was currently losing it with all the cardio I was doing.
Now, since joining DSC, my distance has improved tremendously.
When I first started here in January, my driver wasn't going past 220 yards no matter how hard I tried.
Currently, I hit the ball about 240 yards.
My swing feels much more powerful. My newfound distance even helped me knock down a few shots on my average score.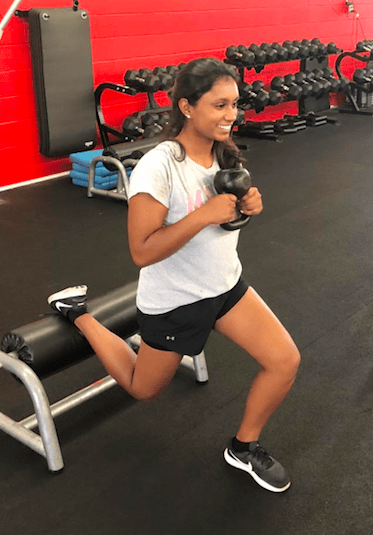 DSC helped me reach goals I thought were too much of a stretch to ever attain!
Not only did I prepare myself better for my collegiate golf career, but I feel stronger and healthier, with more energy throughout the day.
My overall experience at DSC has been great.
I have acquired a new love for fitness and find myself looking forward to the next workout.
The coaches are extremely supportive and friendly.
They always make you feel included and a part of the close knit community that DSC is.
As soon as you walk through the door you feel welcomed by them. They would have to be one of my favorite parts of coming to DSC.
Another favorite aspect of mine is how detailed workouts are to your fitness goals.
Whether it be to a specific sport, or weight loss or gain in mind, the coaches have monthly workouts planned out for you to reach your goals.
To athletes that were thinking of joining the DSC community, I would highly suggest to take the leap.
The coaches push you to be your best every session.
You will realize you are capable of much more than you think, just like I did!
If you want to take your sport to the next level, or just improve your fitness and well being in general, DSC is 100% the way to go!
- Isabelle
Our Summer Performance Camps start Monday, June 25th!
We have a few remaining spots available.
Click below to register!