How DSC changed my family's life!
Before DSC, I can't honestly say I had a typical workout.
I would begin programs (ex. workout sites, videos, 21 Day Fix and a gym with machines) on my own with every intention of keeping up with them and at times, I would even find minimal success.
Then, life would inevitably become busy with work and my kids and any form of exercise would be pushed to the side. No single type of workout has ever stuck or kept me motivated to continue on a long-term basis.
My journey at DSC began in January.
My son had joined the Athletic Development Program to gain muscle after the program was recommended by a friend. He loved it and asked me to try it out for the free week.
It took a couple of weeks to convince myself that it was only one week that I was committing to. If couldn't do it, couldn't fit it in, couldn't breathe or if I was completely exhausted after work, I didn't have to continue.
After one class, I was hooked!
My goals at DSC were to gain strength and endurance, lose weight, stay with the program and ultimately, feel better about myself and my overall health.
Entering a group workout class for the first time is very intimidating!
I was afraid I wouldn't be able to keep up, that I would definitely stand out (I like to blend) and that it would be too much for my asthma.
My first class was....empowering!
Every coach smiled, introduced themselves by name and checked in throughout the workout.
As a beginner, I needed constant check-ins to correct my form and modify exercises to my entry level, but it was always (and still is) presented in a kind, gentle and helpful manner.
Although it was difficult, I never felt there was anything I was unable to do!
The dynamic atmosphere between the coaches and group members working out was contagious! I can't thank Matt, Chris, Lucas, Kurtis, Tommy and Renee enough for the smiles, the quick check-ins, the kind words and the consistent motivation, which continue up until this day!
They truly make DSC the welcoming, energizing and fun place it is!
I decided to join the nutrition program because I knew I needed to work on my nutrition in order to really achieve my goals.
I'm not a terrible eater overall, but I don't balance my nutrition well.
I tend to graze in the afternoons because as a teacher, I eat lunch at 11am and don't eat dinner until we can fit it in with my children's sports and activity schedules.
I also wake up at 5am and go to sleep at 11pm, which usually means I eat too late and don't always make good choices after 8pm.
Through the nutrition program I hoped to focus on balancing my nutrition throughout the day, work on pre and post nutrition (which I've never had to worry about before), lose weight/gain muscle, and feel healthier.
This program has been so beneficial to me! I feel like it helped me to sync both eating healthy and working out consistently!
I can't say I have felt this good overall in YEARS!
The best parts for me have been:
1) The lessons on pre and post workout nutrition and macro levels have made such a difference in my daily life.
2) The accountability to Renee and Tommy (and Eirikur in Phase 2) and to myself. It's so much harder to graze when you know that it needs to be recorded in MFP. It has also helped me plan ahead on a daily basis.
3) The videos each week that help set the stage for the weekly goal.
4) The support and guidance from Renee, Tommy, Eirikur and the group members has been the glue. It helps to know that other people are finding the same struggles and successes.
Since initially joining DSC, I have lost ten pounds. In the nutrition program, my pre- to post- testing difference in body fat was 2.77%, 2.24 pounds in lean mass, and 6.5 pounds in fat mass.
I recently bought a pair of jeans two sizes smaller than when I started and in a size I haven't worn since before I had children.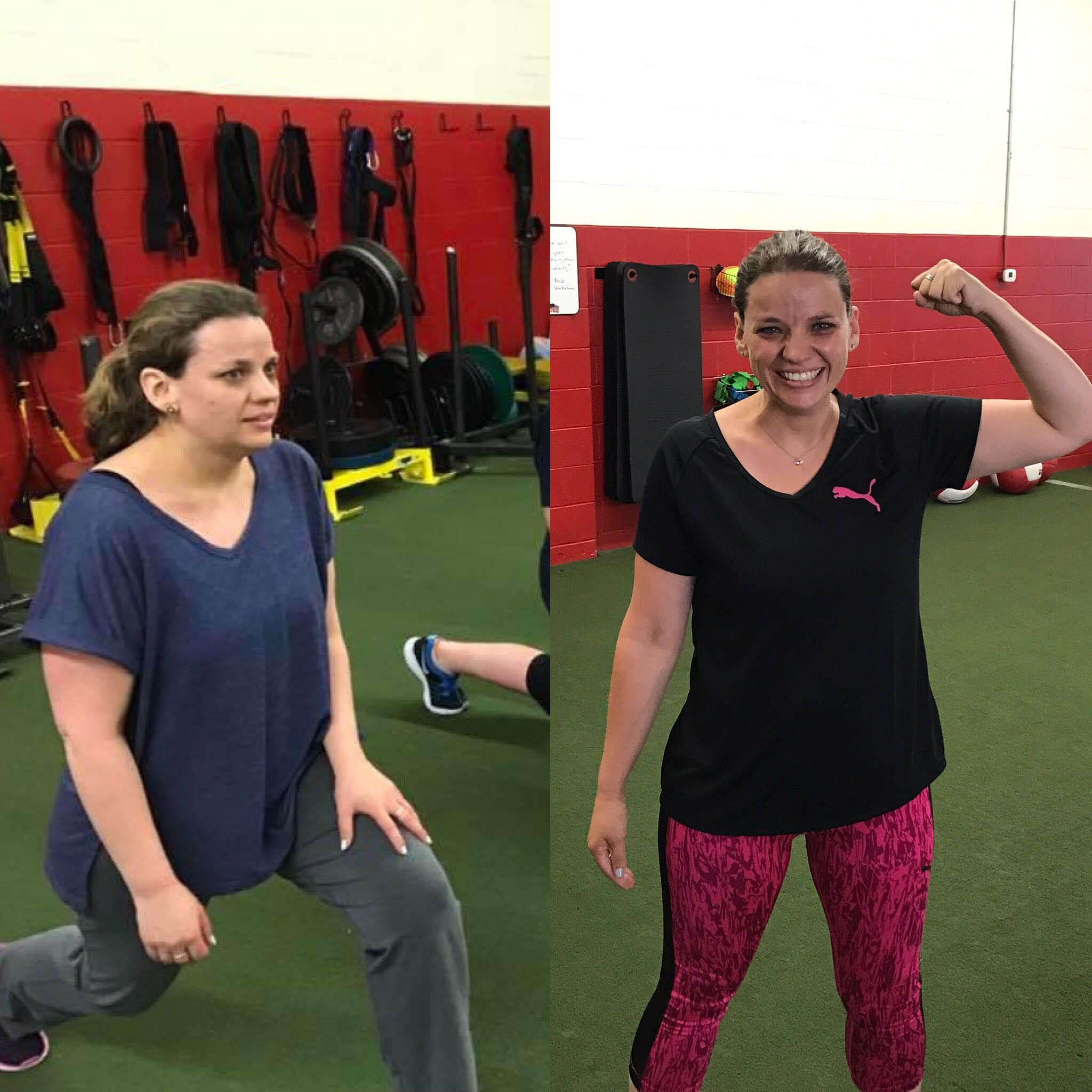 My clothes fit differently, especially in my legs and hips. I can see muscle definition in my arms and legs, which is amazing to me.
I have gained a new community in my life through both the DSC classes and the nutrition program Phase 1 and 2 groups.
My endurance during workouts is up!
My results that won't show up on the scale are just as important if not more important to me!
I can keep up with my kids.
They see me making the time to workout and make good nutrition choices. They have commented on how they have seen my strength improving and that I can do exercises and activities I wasn't able to do before.
They see my snack choices improving and how I plan out what I eat.
They both chose to participate in the DSC summer camp and love it!
I am proud that they have been able to witness my changes and it helped lead them to join DSC for the summer with me. That to me is the best result I ever could have hoped for!
DSC and the nutrition program tools have become part of my daily life!
When I don't make it in for a class or don't follow the lessons I learned in the nutrition program, I feel the difference and I don't feel my best.
It's been six months since I began this journey and I continue to feel motivated by what I have learned.
I definitely have days when I fall down, but I have never stayed with any workout or nutrition program for this long! This has been a lifestyle change.
As a teacher and a mom, I very rarely have a moment to get anything done and I don't put myself first.
This is the first time I have made my health a priority and I feel better and younger than I have in years and my kids have shared in this journey.
Instead of getting in the way or being a chore like it always felt before, it has only enhanced my life and made me feel stronger and healthier.
My journey is far from over, but I feel confident it will continue. This is the first summer I didn't have to come up with a plan for how I was magically going to become more active and eat right - I just needed to continue on the path I was already on!
For anyone looking to make a real and lasting change, improve what they already do or put themselves and their health first, I can't recommend this program enough!
The support, guidance and energy you will find at DSC and in the nutrition program is not like any other - it will change your life! You will be happy that you took the time to do it and put your health first!
- Jen
Are you ready for change?
Are you ready to step out of your comfort zone?
Claim your free-week trial by clicking on the green button below!