Last October I was feeling so disheartened about my body.
I was so ready for something to change.
I needed something that would actually work.
I wanted to lose weight, was in pain daily and the things I had been trying weren't working. I couldn't find a way through it.
That's the state I was in when a friend told me about DSC and how she thought I would love it.
I wasn't quite sure I had it in me to try yet another gym (and I really like to exercise).
I was just so tired of setting myself up for disappointment.
Every time I got back into an exercise routine I would end up with an injury that would throw me back off track or I would be so bored I couldn't sustain it.
Thankfully, while a bit anxious about joining, I decided to give DSC a try and honestly, it was one of the best choices I've ever made for my health and well-being!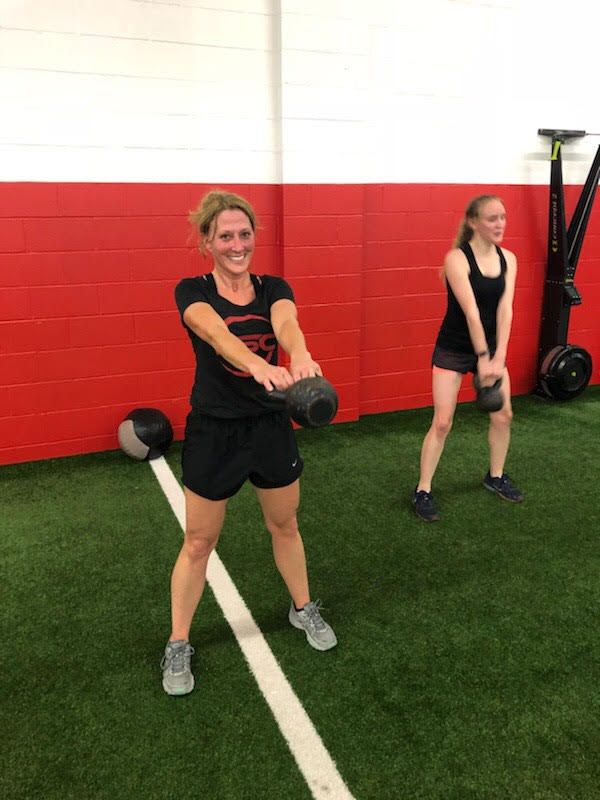 I am so proud to say that 10 months in, I have been injury free, I'm down 12 pounds, and am stronger than I have been in a long time!
I have a lot more energy and if that's not enough, no longer have daily pain.
The quality of my life has increased drastically.
DSC offers a supportive, welcoming, friendly environment, and the coaches and staff are wonderful!
The coaches know your name (yep, just like Cheers)! 😊 (Which also means, they know when you're not there!)
I remember being floored after returning from vacation, a few of the coaches, said "hey, haven't seen you for a bit, all ok?"
They make it fun – goofing around, making us laugh, blasting music and offering positive shout-outs to keep us motivated, all while doing their job – encouraging us, keeping us on track, making sure everyone is doing their best, and most importantly, making sure we're doing the exercises correctly to avoid injury.
They are always there, ready to offer up an alternative exercise if one of the exercises isn't quite right for you that day, and keep it fresh with constantly changing exercises.
After a few months in, I also joined the Nutrition class – because let's face it, exercise is only half the battle.
I have always eaten well, but once I started keeping track of my food and doing it on a macro level, it was truly eye-opening (and admittedly sometimes a bit frustrating!)
Even better, I no longer have "bad cravings" or the hunger wave throughout the day – it works! The nutrition coaches are wonderful, invested and excited about what they do and are there offering encouragement and support.
I absolutely love DSC!
I look forward to going to the gym every single time, and even set my alarm Saturday mornings (much to my husband's chagrin!)
None of the past gyms I've joined even come close to what DSC is and what it offers.
I have met some wonderful people, have great work-out partners and feel great! I truly can't say enough about it.
These days we hear so much about dementia, heart disease, obesity, diabetes…and while some of these are genetic, scientists are finding whatever risk we do have has less to do with our genes and more to do with how we live our lives and just how crucial good nutrition, exercise and overall well-being play such key roles in prevention.
Having just lost my Mom to dementia, I am even more motivated to keep moving and making healthy choices for myself.
If there's even a small chance that I can prevent and/or delay health decline simply by paying attention to my dietary choices, weight modification and physical activity, why wouldn't I?
All of these things are in my control.
My advice, if you're on the fence, jump, you won't regret it!!
If you've found yourself agreeing with even one thing that I've experienced, you owe it to yourself to feel better!
- Renee
Ready to never stress over working out again?
Ready to get into a consistent routine and feel GREAT?
Click below to claim your free-week trial!