How Brian lost 40lbs at DSC!
Before joining DSC I was a member of the YMCA for a couple years.
I would work out 3-4 days a week.
I would typically lift weights for 45 minutes and do 20 minutes on the stair climber or elliptical. I found myself doing 2 different exercises for each body part: bi's, tri's, chest, shoulders, legs.
I had foot surgery in March of 2017 and had not worked out for over 9 months.
I just got into a funk and could not get motivated to get myself back into the gym.
After talking with my friend Steve (a DSC member), I finally agreed to try DSC out.
My goals were to lose weight and get stronger in order to play better golf.
I also know how important physical activity is for my mental health so working out a few times a week enhances my mood tremendously.
I had never done any group based training before so I was a little nervous at first.
However I quickly knew that this type of gym was exactly what I was looking for shortly after arriving.
My first class was incredible!
Even though my whole body was sore for a week after the first class I somehow got myself back in there 2 days later.
I felt so welcomed from the first day I set foot in DSC.
Every trainer was encouraging and enthusiastic and I felt like I was the only person in the class.
I love the fact that all the movements are dynamic and working on my entire body.
I had never been a big fan of working on my lower body but this type of training works on every body part, especially your lower body.
I have not felt this good in a long time!
I have psoriatic arthritis and have always suffered from minor aches and pains -- lower back, neck, elbows, shoulders etc.
I would go to the gym then have the typical muscle soreness after a workout but these days I am rarely sore after a strenuous DSC workout.
Almost all of my aches and pains are gone. It feels GREAT!
I have lost 40 pounds and gone from wearing a size 42 down to a 38!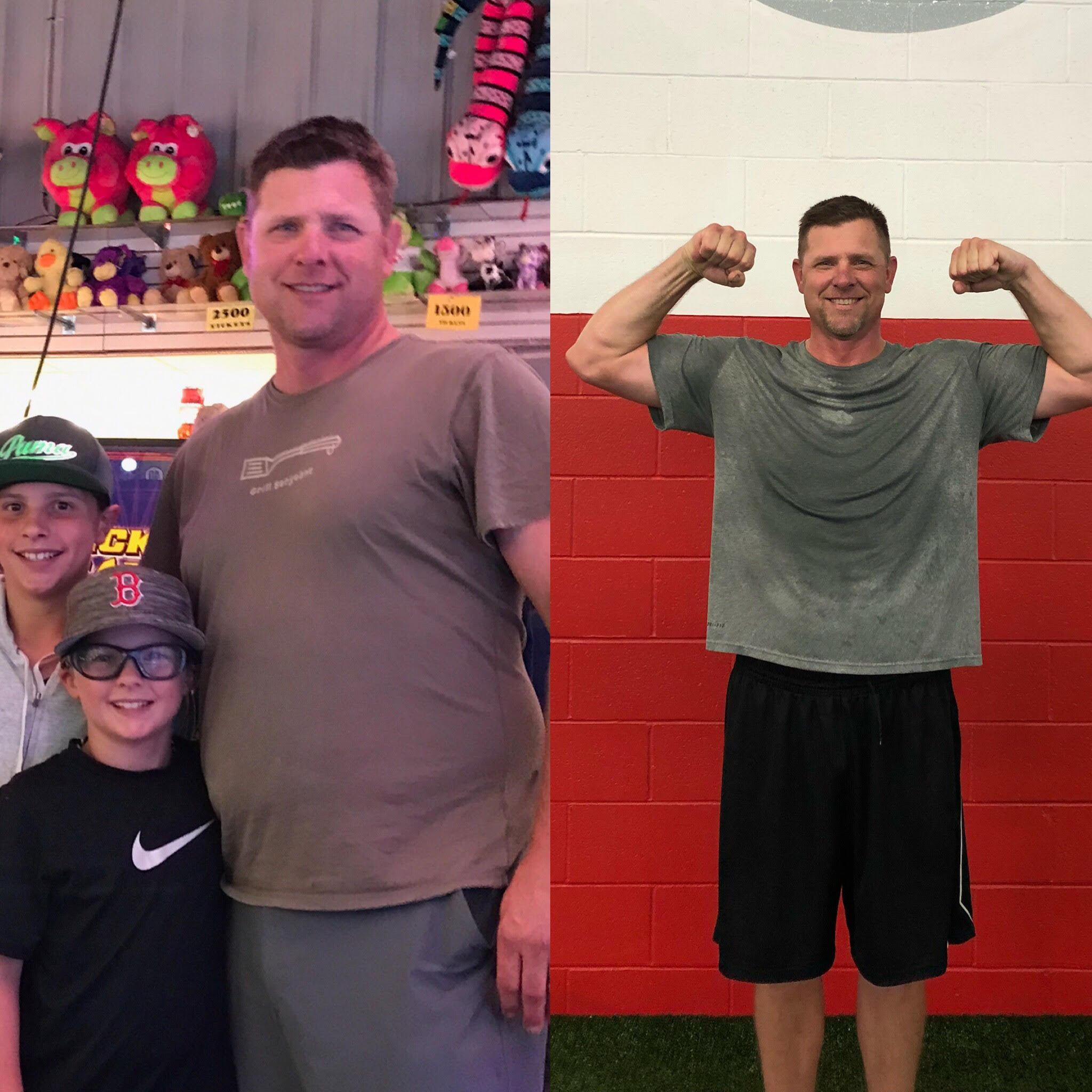 I am wearing belts I could not even get on before but now am using the 3rd hole on.
I love the flexible times available for the workouts, especially the daily noon class. It works out great for my schedule. I love everything about the workouts.
The ~10 minute warmup, the 8-9 minute circuits, the closer and the stretching all done in 60 minutes.
Even though every workout is extremely challenging and difficult, I know it only lasts for 60 minutes and I always feel so much better at the end. Mentally that also allows me to push through each one!
My advice to anyone looking to get in shape, lose weight, be challenged every single time you walk into the facility and meet some great people would be highly recommending you come join DSC.
It is the best money you will ever spend on yourself!
- Brian
Ready to be our next success story?
Ready to feel your very best?
Click below to get started!