From intimidated to inspiring!
Years before DSC I had gained 45lbs due to some life situations.
Unhappy with myself, I went to a traditional gym for a bit, but the workouts were a painful hour on the elliptical or bike.
I was way too intimidated and didn't even know where to begin with the weight machines. And of course, too terrified to ask for help.
So, I eventually ditched that and I counted calories, restricted my diet and a few times I tried going out for a "run".
I did some workout videos at home along with some free weight exercises and eventually got my weight down 30lbs, but it took a few years. I hit a point where what I was doing wasn't working anymore and it was truly boring me to death. I was still striving to not only get rid of those 15 extra pounds, I also wanted to start gaining muscle and toning up and I didn't know where to start.
Before joining DSC I was afraid of being judged and labeled as someone weak. I had all of the drive in me to put in the work, but being such an introvert in new situations made it feel impossible to push myself to be that strong and confident person I wanted to be.
I was intimidated by people who were confident, strong and in great shape. I wanted to be like them and I knew I had to earn it.
Day after day at every single workout I attended, I gave it my all. I learned to stop wondering what people thought.
I have my goals and they are MY goals for a reason and I shouldn't let my feelings of intimidation limit me.
Starting at DSC made me realize everyone there was on their own page and pace and it put me at ease.
Now I put myself next to those who push heavier sleds, kill it with weighted push-ups, and box jump higher than I ever think I could. Why? Because they motivate me. Those who once intimidated me became my friends and my biggest motivators.
Whether we are silent because we are so out of breath or we are cheering on each other because there is one more set left that we have to push through together.
Because of my feelings of intimidation that I once had, I like to try and help the new members along and make them feel comfortable so they lose that feeling of intimidation. I want them to know we are all here to support each other and build friendships in addition to getting in a killer workout.
When I signed up for DSC I was looking to lose some weight, but mostly tone up and build muscle. More importantly though, I wanted to learn proper techniques.
I do a lot of physical work at my job, lifting, pushing, carrying heavy things and I would constantly "tweak" something or hurt myself.
I wanted to be on a schedule and to have someone to make me accountable. You skip a few days at DSC and trust me, they are asking about you!
Now I make myself accountable because I need my workouts. They are a huge part of my routine and routine keeps me in check. I wanted to find confidence and strength, not only physically, but also mentally, within myself and felt as if working my body hard was what I needed. I knew that the right environment and workout routine would give that to me and I just needed to find it. I love how I know I am getting a full-body workout and sweat-sesh every time I go to DSC.
I started at DSC in the Women's Group with my mom and sister-in-law in December 2015.
Walking through the door for the first time was a little nerve racking because I'm a very shy and hesitant person in new situations.
I was intimidated, but it didn't last very long once I realized it was all in my head. I felt like I was all over the place because there was a lot of new things going on, but I never once felt out of place.
Renee and all the other trainers were very welcoming. They made sure I was comfortable and doing the exercises appropriately.
I broke a sweat pretty quickly and felt out of shape, but it felt good. I felt like I was truly accomplishing something and I wanted to come back for more.
Day one may have felt a little messy, but very quickly I fell into the groove of things. Two months later I moved up to the adult group and started taking MetCon classes.
I've been going to DSC for just over a year and I couldn't be happier with my results.
I have reached so many of my goals with the motivation and push from all the trainers.
The day I realized that I was finally able to do unassisted chin-ups was probably one of the proudest moments for myself.
I've lost 15lbs and have gained a whole heck of a lot of muscles! I have gone down 2 pants sizes and sometimes I even have to size up in shirts because of how big my biceps have gotten!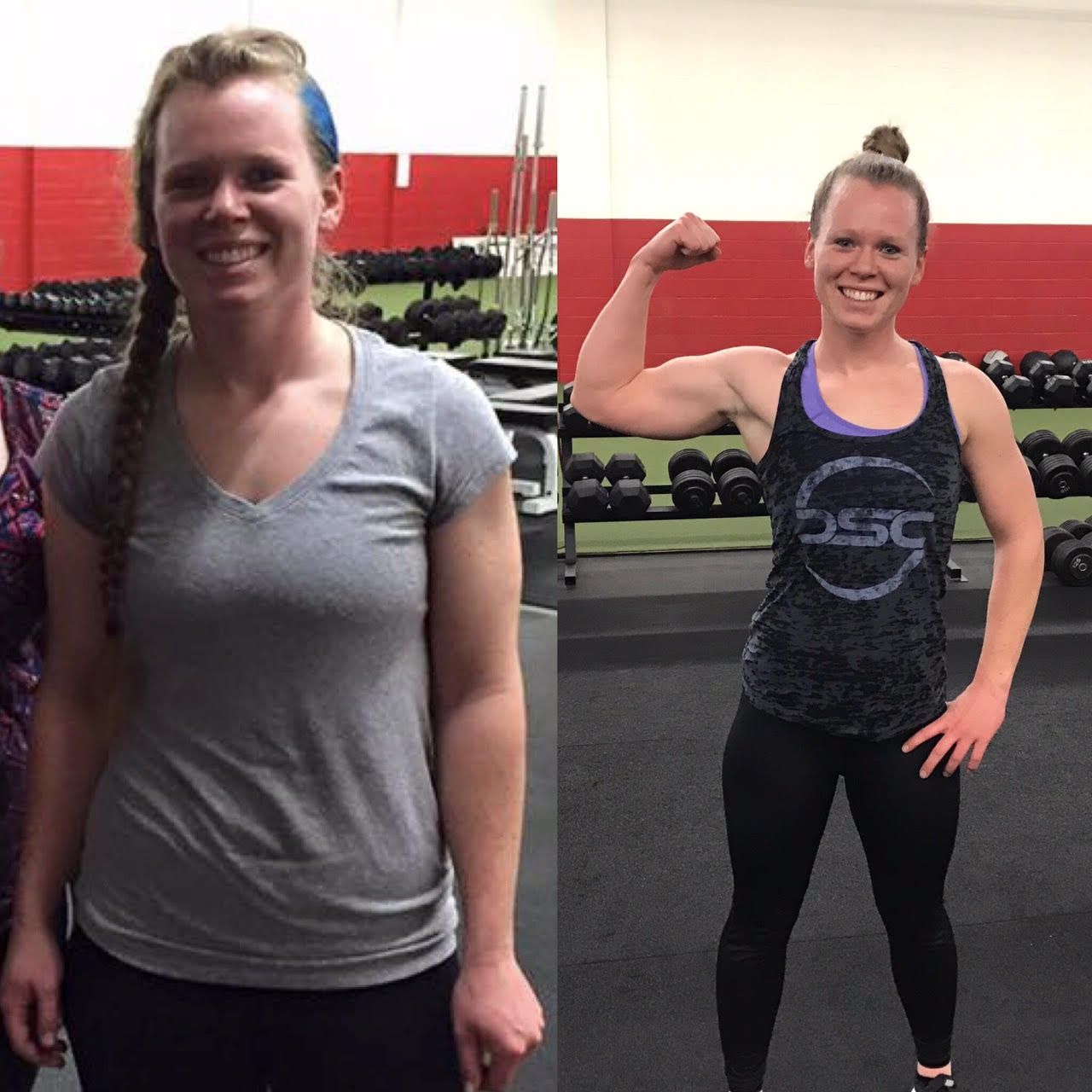 I have not only gained muscle, I've gained many new friends as well. We motivate each other and make the workouts even more fun and enjoyable than they already are.
I now train 4-6 days a week and I can't believe the changes I have seen in my body. Because of Matt, Renee, Kurtis, Tommy, Chris, Luke and Jamie, I've found strength and confidence within me that I never knew I had. I'm stronger and healthier physically, mentally and emotionally.
I've accomplished more this past year than I ever thought I could. DSC has lit a fire in me that drives me to work harder to be better every day.
My advice to anyone considering DSC is to just get yourself in the door to see what it is all about. There is nothing to lose with that free first week!
It's a great place to start breaking out of your comfort zones because it is filled with friendly faces and a great support system. Bring someone else along like I did if you need that little bit of comfort for your first class.
The coaching and atmosphere is focused on teaching, motivating and supporting you to reach your personal goals and to then exceed them. (All while having fun! ☺)
It doesn't matter if you're just starting your fitness journey or if you are a long-time fitness guru, DSC is something special for everyone.
You're not just joining a gym, you're joining a family.
- Rebecca