FREE Fat-Loss Meal Plans (with grocery list)
Are you ready for the body you deserve?
Are you read to clear the confusion around what to eat?
We are here to help!
Join our next Online Nutrition Coaching Program starting May 1st!
[Early-bird registration 15% discount ends April 10th]
---
One of our favorite quotes when it comes to improving your nutrition is:
"By failing to prepare, you are preparing to fail." - Benjamin Franklin
This couldn't be more true when it comes to working towards your health and fitness goals.
One simple area that has the biggest impact on our Nutrition Coaching Members is getting them to have a plan of action prepared ahead of time.
We've all been there.
You're running around like crazy.
Work, carting the kids around, meetings, parties, etc. -- it doesn't end.
You want to eat well but now you're starving and stressed.
Instead of preparing and eating food that will have a positive impact on your fat-loss, energy, and overall health, you grab what is most convenient and will satisfy your hunger.
Because you're so hungry, you eat too fast and end up overeating.
With better planning we can avoid these situations!
Also, by simply preparing your own meals you're bound to take in less calories.
You will know exactly what you're eating, avoiding the excessive portion sizes and calorie additives like salt, fat, and sugar.
Today we have prepared a sample fat-loss meal plan and grocery list so you can better plan your meals and snacks for the week and crush your goals!
These meals are geared to help you increase your energy, fuel your body, and burn fat.
Enjoy :)
Fat-Loss Grocery List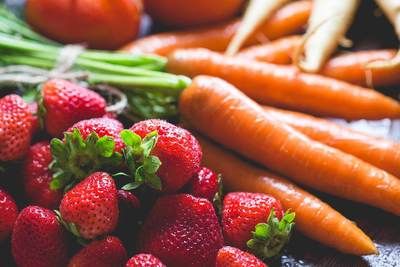 Grocery shopping quick tips:
Shop the perimeter of the store (think mainly foods you can pick and hunt)
Don't shop hungry!
Know that if you buy it (sweets, chips, etc.), you or someone in your home will eat it
Proteins
Chicken Breasts

Ground Turkey

Eggs

Greek Yogurt (low sugar)

Low Carb Protein Powder

Tuna

Chicken Sausage Breakfast Patties

Edamame
Carbohydrates
Mixed Greens

Zucchini

Summer Squash

Spaghetti Squash

Frozen Mixed Berries

Apples

Red Grapes

Sweet Potato

Celery

Cucumber
Healthy Fats
Avocado

Cheese

Almond Milk

Nuts and Seeds

Hummus

All-Natural Nut Butters

Olive Oil

Grass Fed Butter
Fat-Loss Meal Plans
Breakfast:
2-3 Whole Eggs

1 cup Berries

¼C of Avocado or 2TBS of Cheese





Berry Blast Smoothie

1 cup Almond Milk

1 scoop SFH vanilla protein powde

1 cup frozen mixed berries

¼ C avocado





Breakfast Burrito

Low carb tortilla

2 organic eggs

1 Chicken sausage patty or link

2TBS shredded cheese
Lunch:
4-6 oz Chicken Breast

1/2C Edamame

½ Sweet Potato

1tsp butter or EVOO





Buffalo Tuna Salad

2 oz tuna

1TBS mayo

Hot sauce

2 cups mixed greens

1 Babybell Cheese
Dinner:
4-6 oz Baked or broiled fish

2C mixed greens

1C cucumbers

1/2 C tomatoes

¼ C mushrooms

2 TBS sunflower seeds

onions and peppers

1 TBS EVOO based dressing



2C Spaghetti Squash

¼ C Sauce

4 Turkey Meatballs

2C mixed green salad

1 TBS EVOO based dressing
Snacks:
2 large Celery Sticks

1TBS all natural peanut butter





Cucumber Turkey Stacks

1 cucumber sliced lengthwise into 6 slices

1oz swiss, 3 oz deli turkey

2 TBS hummus





1 cup plain Greek Yogurt

2 TBS crushed peanuts

¼ cup thawed frozen mixed berries mixed in
Ready to improve your nutrition?
Having a tough time navigating what to eat, when, and how to better plan your meals to reach your goals?
Then you're going to LOVE our Nutrition Coaching Program starting May 1st!
Register before April 10th and save 15%!
[Click the green button below to reserve your spot]