5 Tips For Staying On Track At Home
Today's blog, 5 Tips For Staying On Track From Home comes from DSC Nutrition Coach, Beth Rioux.
What a few a weeks it has been. We hope everyone is doing well and staying healthy.
Now more than ever, your sleep, nutrition, and fitness, need to be a top priority to keep you healthy. Whether you are looking to get your health and fitness routine started or looking to navigate how to adjust to your new temporary home routine, this article is for you.
Enjoy!
1. Chase progress, not perfection
For many of us, our whole life got halted and turned upside down real quick.
It has taken us a little bit to adjust to our new 'norm', whatever that may look like now.
It's crucial to understand that right now it's not about being perfect. There is going to be some time to experiment with what works for you if your work, family, and workout schedule has changed.
Right now, trying to be perfect in all areas of your life, health and fitness is a recipe for frustration. Instead, aim for a little bit of progress each day.
That means a quick walk or home workout. Avoiding those snacks that you want to eat just because you're bored. Drinking more water than yesterday.
Aim for small wins that will build on themselves.
2. Keep as normal of a schedule as possible/welcome a new routine
The best thing we can do is stick with the things that have not changed and add new routines with the things that have.
Then try and be consistent with these routines!
Wake up in the morning and go to bed at the same time that you were before.
If you are working from home, try to start your workday around the same time you were.
Take your breaks and lunch as usual. Get up and walk around if you've been sitting too long, just like you would at your office.
Do your workout when you would have or shift the time to hit up the live video!
Getting this new schedule and routine in place will help to keep you on track and working towards your fitness and nutrition goals.
As your situation changes and evolves, take the time to check-in, assess, and make sure your routine is working and attainable.
Don't be afraid to make adjustments as needed as you learn the best ways to keep you healthy, happy and working towards your goals. You'll find you can continue to be consistent even as some variables change!
3. Plan your meals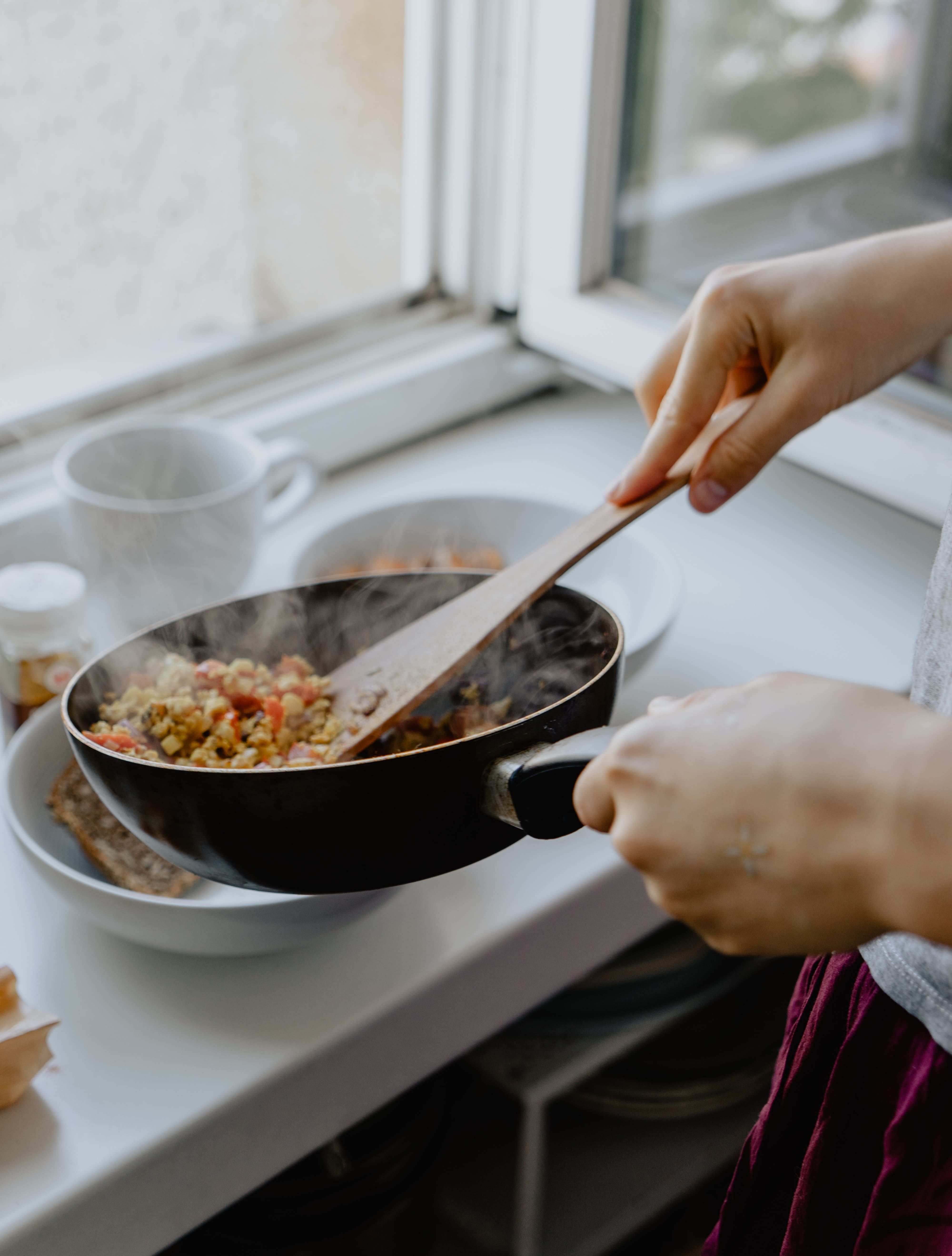 Planning ahead is one of the best tools for success no matter your circumstance!
If you plan out your week, by knowing your schedule and what you will need in advance, there is a much greater chance that you will make good choices.
Picking meals, finding recipes, making shopping lists and having all necessary ingredients on hand will allow you to keep to that planned menu. This helps to eliminate some of that mindless eating.
Being stuck last minute with nothing available which then usually leads to bad food choices such as convenient fast foods or take out.
Food prepping is also a great option. If you can meal prep one day it will guarantee you to have either lunch or dinner or both all ready for the week. This is especially helpful if you are working from home and busy, you will already have your meals ready for you!
If you are now working from home instead of going in to work, pack your lunch and snacks anyways!
This is good for a couple reasons...packing your lunch and snacks for the day will help you to stay on track. You will already have planned out exactly what you need to eat that day and will have good food choices.
If not, you may find yourself wandering into the kitchen and just grabbing whatever or constantly snacking because you're bored or hungry.
Snacking on the 'kids' snacks' also probably does not align with your nutrition goals.
All of this will cause you to overeat and put on weight.
If you have those foods already packed you will know how much you should be eating through the day and not over or under-eating.
Packing your lunch also helps to keep you on your old schedule and routine, something we all need a little of right now!
If you're able to, this is also a great time to branch out and try a new recipe you've been wanting or meaning to make!
4. Get your exercise in
More now than ever, it is crucial to keep getting your workouts in and staying active.
This is so important for both our minds and our bodies.
Working out helps to relieve stress and anxiety, keeping our minds calm through this tough time.
It also keeps us fit and healthy boosting our immune system, building muscle and burning fat.
Getting your workout in will give you a sense of normalcy, accomplishment and keep you feeling good!
Having trouble getting the motivation to get them done? Grab a workout buddy and video chat while doing the workout together. Get the family involved and have your significant other and/or kids try the workout with you. It is always more fun to work out together, plus the other members of your family will reap the same benefits of getting their exercise in and burning some energy!
Keep our first step (progress not perfection) in mind when it comes to your fitness routine: something is better than nothing.
If you don't have time for a full workout do part of one. Go for a daily walk or jog. Do the best you can with what space and equipment you have available.
Your workouts don't have to be perfect for you to reap the benefits. The point is just to MOVE.
Aim for at least 30-minutes of deliberate movement a day!
5. Get the essentials
Make a list of all the essentials that you need to stay on track and keep working towards your nutrition goals.
If they are available at the store, great, stock up and get some extras of your favorites so you know you'll have them.
The stores are constantly restocking so you should be able to eventually get what you need.
This will also help to make those complete meals instead of picking and snacking all day.
Some of my favorite essential food items that you can get to have on hand are lean protein sources like meat and fish (you can freeze extra), non perishable items such as beans, lentils, rice, grains, and oats, frozen fruits and vegetables that won't spoil, and water.
Grab healthy snack items like beef jerky, low-sugar protein bars, cheese sticks, cottage cheese, and yogurt.
Protein powder is also a great option to have at all times, this way if you are short on the protein sources you can always make a protein smoothie to get your protein in!
Even though this has been a stressful time for many, it is important to remember not to panic. Even if you have to make some substitutions to your usual purchases, find a comparable alternative and do your best!