4 Awesome Fat Burning Exercises (with photos)

At Dynamic we love the sleds.
Our member's relationship with the sleds is a slightly different story. It is more of a love/hate.
They love the results but they are tough!
We use sled exercise with all our groups from our Youth Strength Camps to our Adult and Women's Beginners Group Training classes. That is the beauty of the sled. Anyone can be successful with them as they are very user friendly and easy on your joints. They are one of the best ways to improve just about every fitness quality under the sun including: mobility, strength, power and cardio.
They are one of the best fat burning exercises on the planet!
#1 Sled March
Load these up heavy! Due to moving at a slower pace with more weight, you are going to be building some serious lower-body strength while keeping your heart-rate high! These are great for building strength and endurance of your legs, especially your glutes and hamstrings.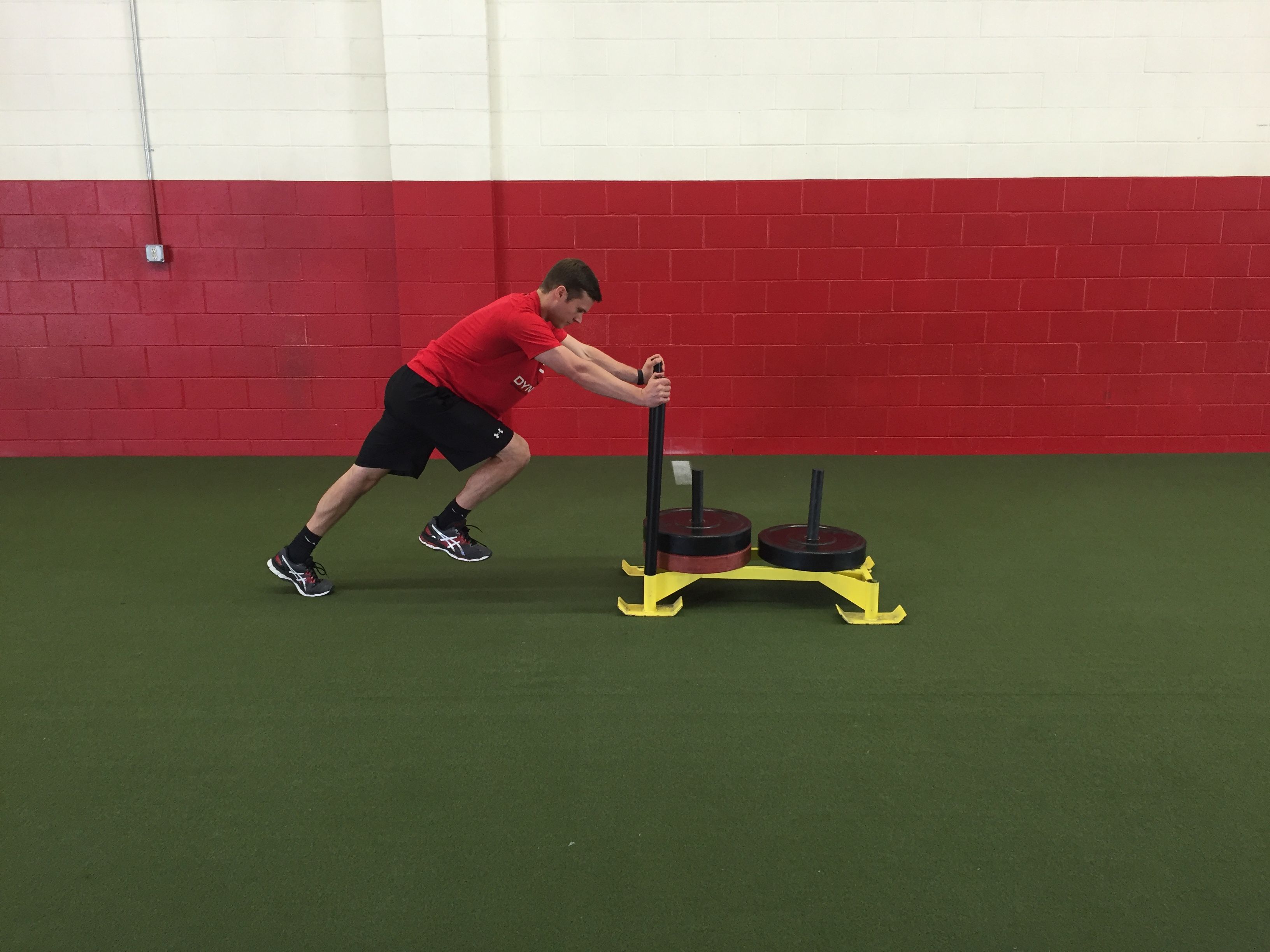 Key Points
Keep body at 45 degree angle

Keep arm straight

Leading with knee, one foot at a time to move forward

Keep upper-body still throughout

Start with 4 rounds of 15-20yds followed by 1:00 rest
#2 Reverse Drag
Reverse drags are similar to our sled march, only backwards. By going in reverse, the stress is now put on front of your thighs. Load them up heavy and your quads will be screaming!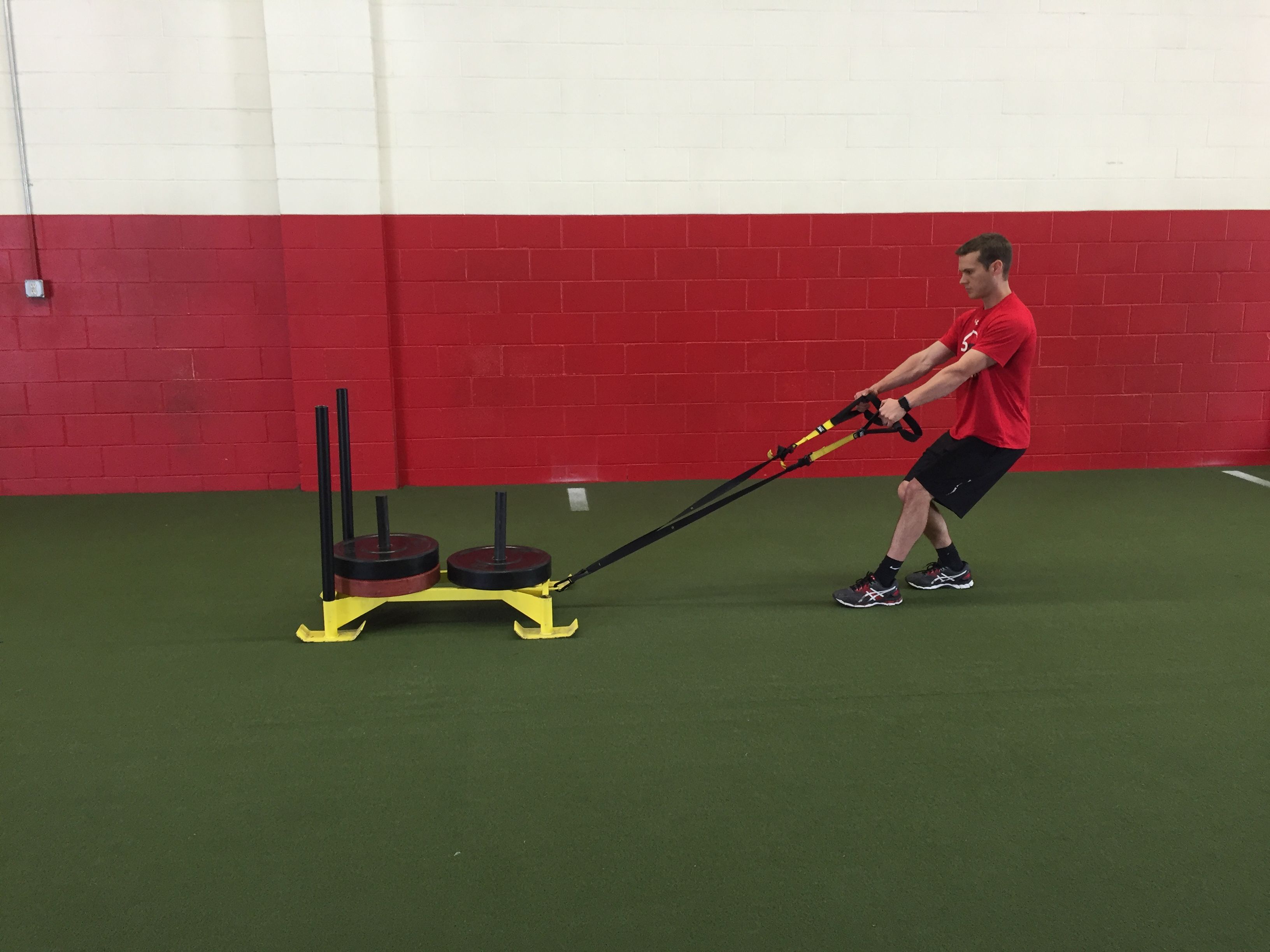 Key Points
Stay in low, seated position with chest tall

Keep arms straight and upper-body still

Keeping feet flat, take one step at a time

Start with 4 rounds of 15-20yrd followed by 1:00 rest
#3 Rope Pull/Push
These are a favorite among our Adult Group Training members. They are a great combination of fun and cardio and make our members feel strong.
Key Points
Stay in low seated position with chest tall throughout

Pull Rope in by alternating hands (hand-over-hand)

Finish by pushing sled back to starting position

Start with 4 rounds of pull + push (1-2min rest between rounds)
#4 Sled Sprint
There is no better exercise than sprinting for getting your heart-rate up and burning fat. Now sprint with a weighted sled. Talk about one of the best exercises going!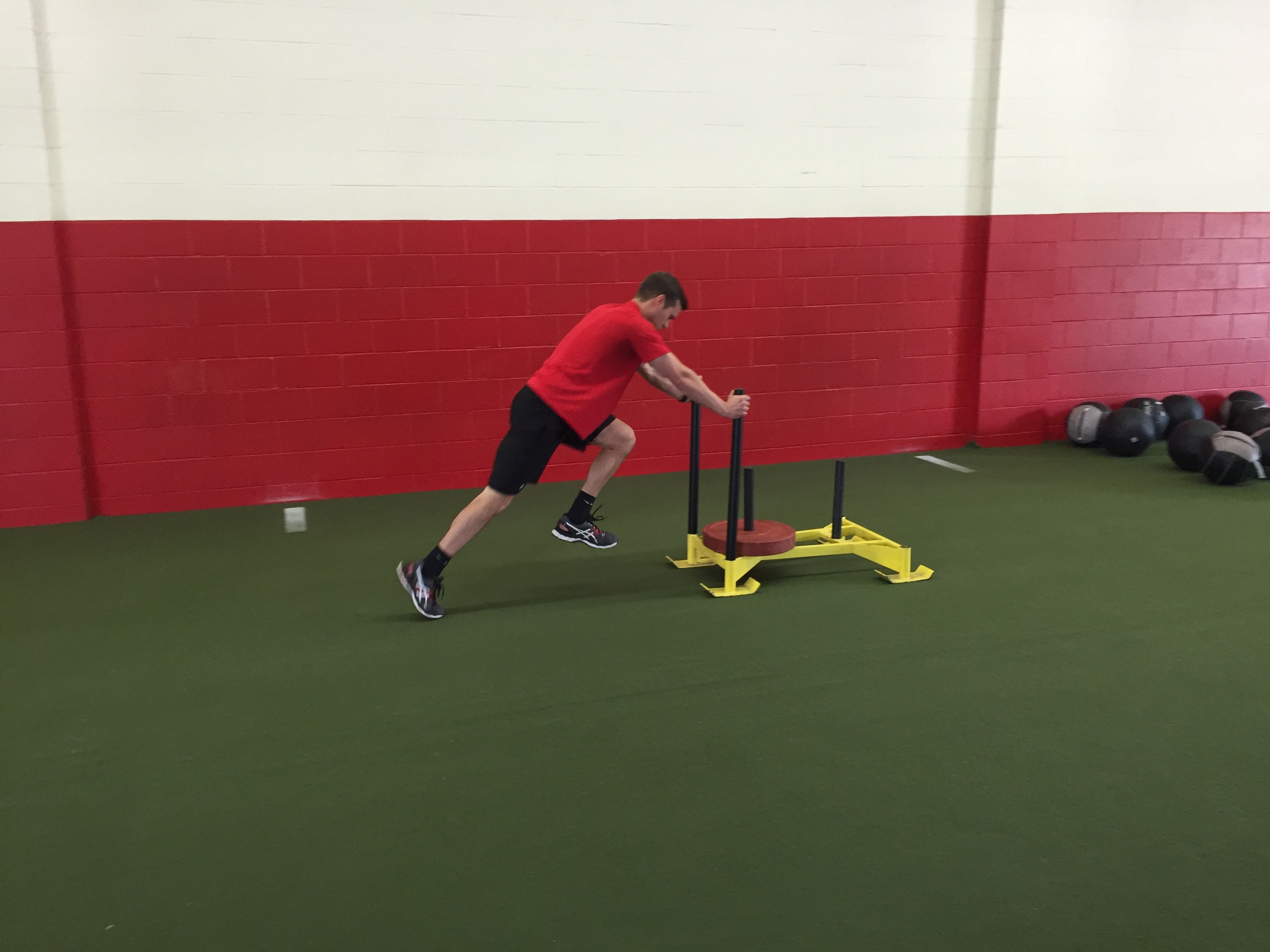 Key Points
Do not fully sprint if new to the sled sprint

Keep weight on sled light

Keeping arms straight, drive knees and run with sled

Start with 6-8 rounds of 20yd sprints followed by 1:00 rest
---
Our philosophy at Dynamic Strength and Conditioning is that every individual—regardless of fitness level, age, gender, or goals—receives the best results from a comprehensive strength and conditioning program in a safe training environment coached by educated, experienced professionals.