"Why am I not losing weight?"
Our Next Women's Groups Start in April!
Sign-Up NOW!
#JoinTheMovement
---
We just hit a major milestone here at Dynamic Strength and Conditioning.
Our Women's Beginners Group Training just had it's 2 year anniversary!
I could not be more proud of the program and the success our Women's Group members have had.
At the beginning of each month we start a new program which means I get to meet new women who are looking to start their fitness journey with us.
One of my favorite parts about meeting and getting to know these inspiring women is learning about their fitness goals, successes and struggles.
Of those goals, the most common is to reach a healthier weight.
The problem is weight loss isn't a simple task.
There are many factors that contribute to weight loss that can make the process confusing, difficult and frustrating.
My goal, as the Director of DSC's Women's Group Training is to simplify the process and give our members the roadmap to fitness success.
Let's get into the 5 reasons why you aren't losing weight & how you can change that once and for all.
#1 Consistency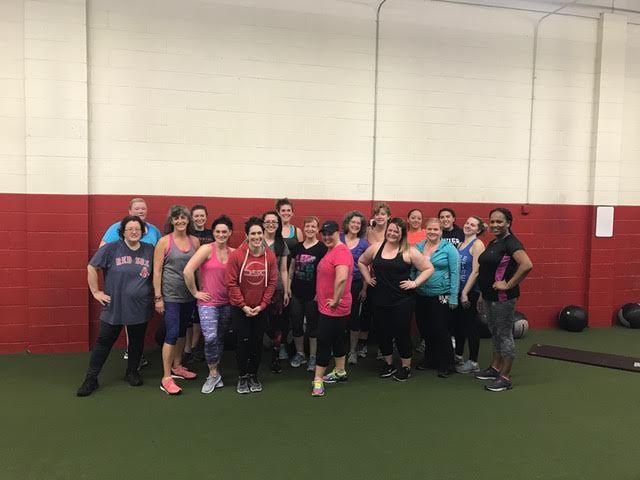 Whatever your fitness goals are, the key to reaching them is consistency, and that could not be more true then with weight loss.
When women tell me that they have been struggling for years with unsuccessful weight loss, it is usually followed by all the reasons they feel they failed.
Many times our new members credit their past inability to lose weight is their lack of consistency and commitment to a work out program.
Here at DSC, our Women's Group Training makes it easy to be consistent!
And that is my #1 goal as director!
With flexible times throughout the week, the women's group training program provides an exciting and challenging workout, designed for beginners that make the members look forward to coming back for more.
Under the guidance and motivation of our great coaching staff, our women's group members see their progress each week and can celebrate their victories with fellows members.
Simply put, it's easy to be consistent because our Women's Group Training is fun.
And, if your goal is weight loss, consistency is key!
#2 Nutrition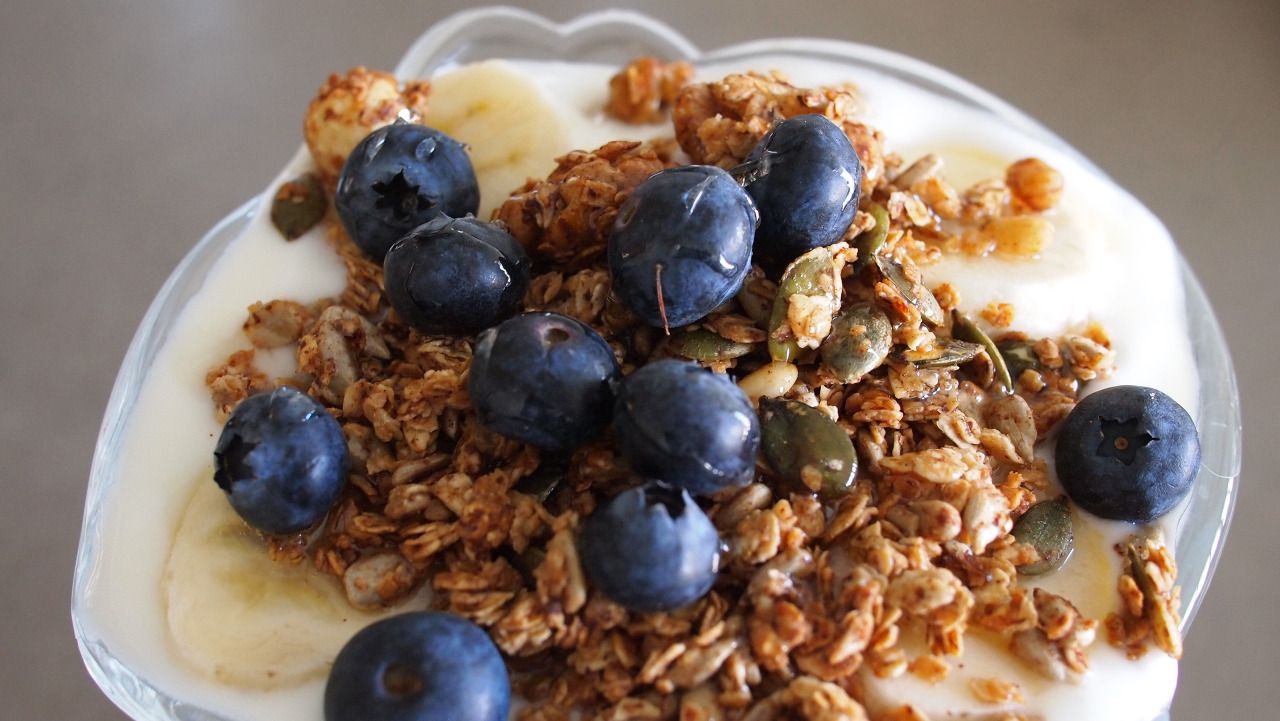 There are numerous fad diets on the market, and they all seem to have the same pitch: Quick and easy weight loss can be yours if you follow these simple steps; i.e. counting every calorie, never eating carbs, or just "juice" every meal.
What we know is, that these diets are not sustainable.
We also know you cannot out-exercise a bad diet.
If weight loss is your goal, slowly working towards better nutrition is a must.
This does not need to be an overwhelming task.
We encourage our members to begin by setting small goals into their daily diet like drinking more water and less sugary drinks, eating an energizing breakfast or choosing a vegetable over a starch at dinner time.
Over time, these good choices become habits that support a healthier you.
This is exactly why we created our 8-week Phase 1 Nutrition Coaching Program.
This program focuses on our members goals and helps them achieve them and learn better nutrition by instilling weekly habits they can take with them once the program is done.
This helps our clients choose better foods that will best serve their body and ultimately allow them to reach a healthier weight.
#3 Direction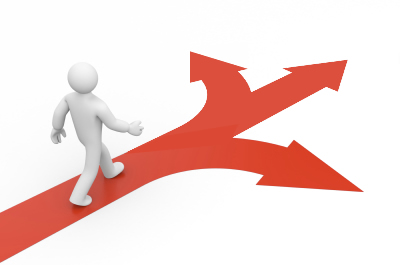 "I wasn't sure what to do"
"No one was there to guide me"
"I didn't know if I was doing the exercises correctly"
"I couldn't motivate myself"
"I just stopped going"
When I talk to our women about the past exercise experiences, these are answers I typically get and have greatly impacted their results.
At Dynamic, my job is to completely eliminate those feelings and set our women up for success.
To do this, our program is coached from start to finish.
We explain, demonstrate and coach every exercise from the warm-up stretches to the cardio movements.
This takes the guess work out of exercise for our members and allows them to just focus on having fun, burning calories, getting stronger and making progress!
#4 Injury history
Bad backs. Shoulder problems. Knee replacements. Foot and ankle problems.
Our Women's Group Members come to us with a variety of health and injury histories.
Many women inquire about our program but feel they will not be able to keep up or slow the class down because of their limitations.
This could not be further from the truth!
No matter what your injury history, aches and pains are like, you can train, and train at a high-intensity.
Our coaches are fantastic about modifying the training to work for you.
We might be doing a certain exercise as a group, but at any moment you will find women doing something different that works for them.
These modifications are just as challenging and allow our women to work hard towards their weight loss goals.
As I like to say, "modifying doesn't mean half-assing!" 😀
No matter where you are at physically, you will have success at DSC!
#5 Mindset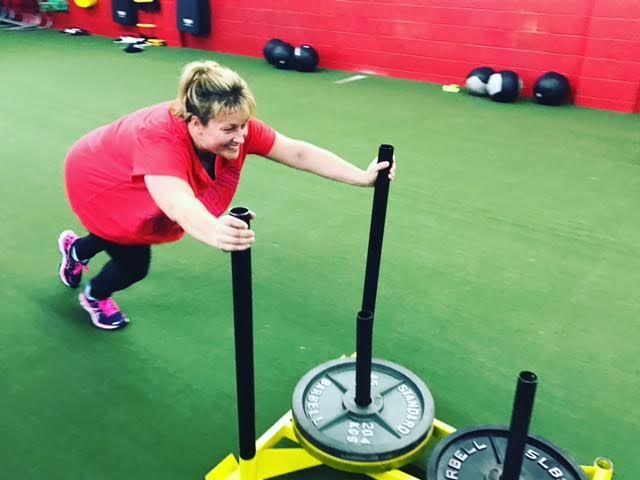 The research on success is very clear.
One area that can have tremendous impact on your results is your mindset.
There are two distinct mindsets that have gained a lot of attention in the field of brain science.
The fixed mindset and the growth mindset.
The fixed mindset is where a lot of us get stuck, especially around our weight.
It believes that change is just not in the cards. You are going to be this weight and in your current fitness shape forever.
The growth mindset realizes that change is possible through hard-work.
Research has shown far greater success in those with a growth mindset including a number of areas like weight loss, financial growth, intelligence, creativity, education and athletics.
Simply put, the more positive you are along your fitness journey, the better results you will see.
It's easy to get discouraged. It's easy to let your current weight stress you out. It's easy to feel alone.
This is why our Women's Group Training works to create an environment that focuses on a few key ares:
Having fun
Comfort
Support
Group camaraderie
Progress
These areas create a culture that allows our women to see that change, progress and reaching their goals is well within their reach!
Join us this April for our next Women's Group Training!
Click on the "green button" below for more information!
- Renee