"I came back to life during DSC's Nutrition Coaching Program!"
Participating in DSC's Nutrition Program truly improved my health and well-being!
I would like to be one of those people with huge quantifiable results, but I will tell you that what I have gained from this program is far more valuable to me than any number on the scale or % in a goal.
As a fitness instructor for nine years who has collected a good deal of solid nutritional knowledge, I felt like I already knew (and was doing) so much of what was included in the Nutrition Program.
Having said that, there came a time in my life when I could not get the results I wanted on my own, even with my knowledge.
The accountability of
the group was key in me sticking with, carrying out, and following through with what was asked of me, and what I knew I needed to do.
I have some medical issues which make losing weight very difficult, and make gaining body fat pretty easy.
I have always prided myself on being able to out-train these factors to maintain a pretty consistent physical appearance and aptitude.
Over the past few years, I experienced an unexplained slow and steady decline of my physical strength and endurance, as well as some weight gain which eventually came to light as a diagnosis of Stage 3 Adrenal Fatigue in March 2016.
With that came intense levels of complete exhaustion.
I gradually gave up many activities that I loved, such as teaching fitness classes, because I lacked such basic energy. I began training less and less because my recoveries were terrible, and I began to experience chronic pain.
I was basically in survival mode.
I feel like I came back to life during DSC's Nutrition Coaching Program.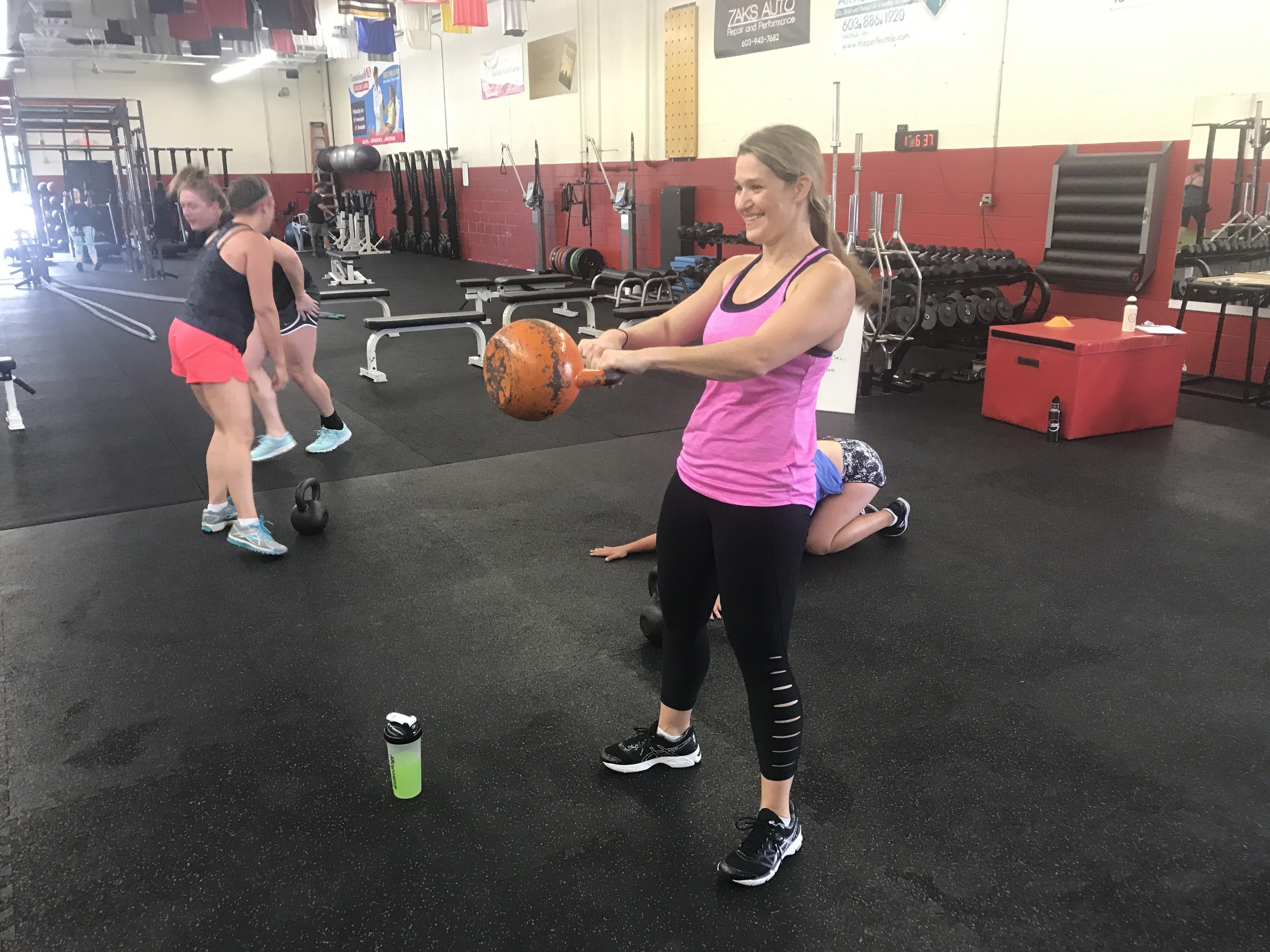 First, I learned right away that I was unintentionally under-eating, believing I was doing the right thing to help manage my medical issues, which was not really even fueling my activity for everyday life.
I adjusted that right away.
Second, I learned how to properly use pre and post workout nutrition, which was a huge take-away for me.
My workouts improved by about the 3rd week of the program, and my recoveries were so much better.
As a result, half-way through phase one, I was back at the gym 4-6 days a week. Since completing Phase 1, I have regained so much of the strength and endurance I felt I lost as a result of the adrenal fatigue.
So, my biggest win? I went from pretty much shutting down physically after pitiful activity levels most days, to being able to sustain full days from 8am to 10pm, being more available to my whole family, my clients at work, to myself at the gym.
Add to that being able to return to teaching here and there, which is huge for me.
My second biggest win? I lost 7.2 lbs of fat in 8 weeks.
Given my medical issues which make fat loss an uphill battle for sure, that was pretty sweet :)
- Michelle
If you're ready to feel your very best, join our next Nutrition Coaching Program starting October 16th!
Space is LIMITED!