15 Quick and Healthy Spring Recipes
One of the most important habits you can create for fitness, nutrition, and fat-loss success this spring is to simply plan ahead.
Failure to plan ahead is one reason why many of us struggle to stay consistent and see the results we want.
Here's how most of us approach our fitness and nutrition with the busyness of our lives:
Your workouts only happen when the stars align and you can squeeze it in between your work and family. This lack of planning and scheduling leaves your workouts at a very low priority and you become incredibly inconsistent. Even when you workout, they are rushed and you don't maximize your time. This is reflected in your results.
Your nutrition and the foods you eat becomes the same thing. Due to a lack of planning ahead, breakfast is something quick or we skip it all together. Lunch is takeout from somewhere and dinner is the only meal we make, unless of course it's takeout again because we ran out of time.
We constantly run into situations where we have no plan and we're left hungry. Then we go for the most convenient food, which is often the least healthiest and contains the most calories.
Do this day over day, and those excess calories keep us gaining weight and do not provide the nutrients we need to keep us improving our health.
Imagine the changes you could make by simply planning ahead.
Imagine waking up and your healthy breakfast and lunch was packed and ready to go.
Imagine not having to waste time and energy trying to think of what to make each night for dinner.
Think about the changes you could make to your energy, weight-loss, and results.
In fact, according to the Journal of Behavioral Nutrition, meal prepping or preparing meals in advance has been shown to increase the health and variety of the foods you eat AND improve weight loss.
Planning ahead is a key ingredient to your nutrition success this spring and we're here to help!
To get you started, we've created a list of 15 quick and easy fat-loss meal plans that you're going to LOVE!
These include some delicious and healthy spring recipes.
Quick note on portion sizes: A big part of fat-loss is learning to control portion sizes to avoid overeating.
As you will notice in some of the menus below, we make portion sizes easy by measuring them against the size of your palm (protein sources), the size of your fist (vegetable sources), the size of your small cupped hand (carbohydrate sources), and the size of your thumb (fat sources).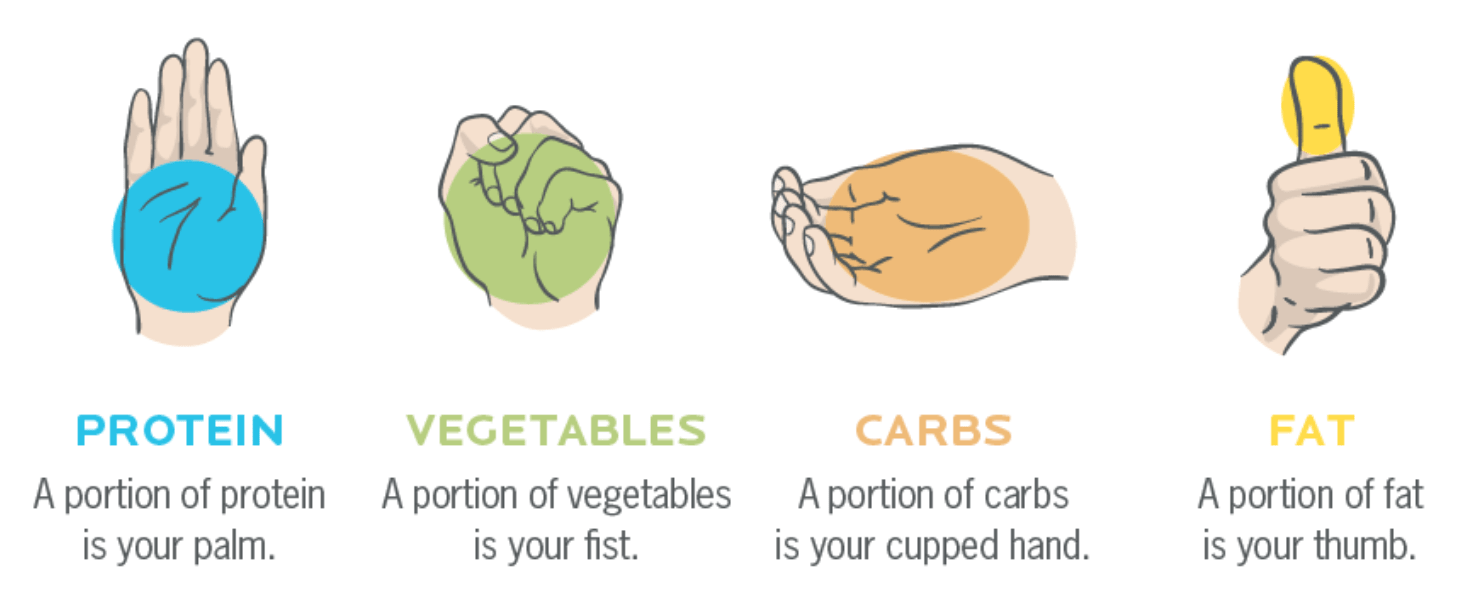 Breakfast: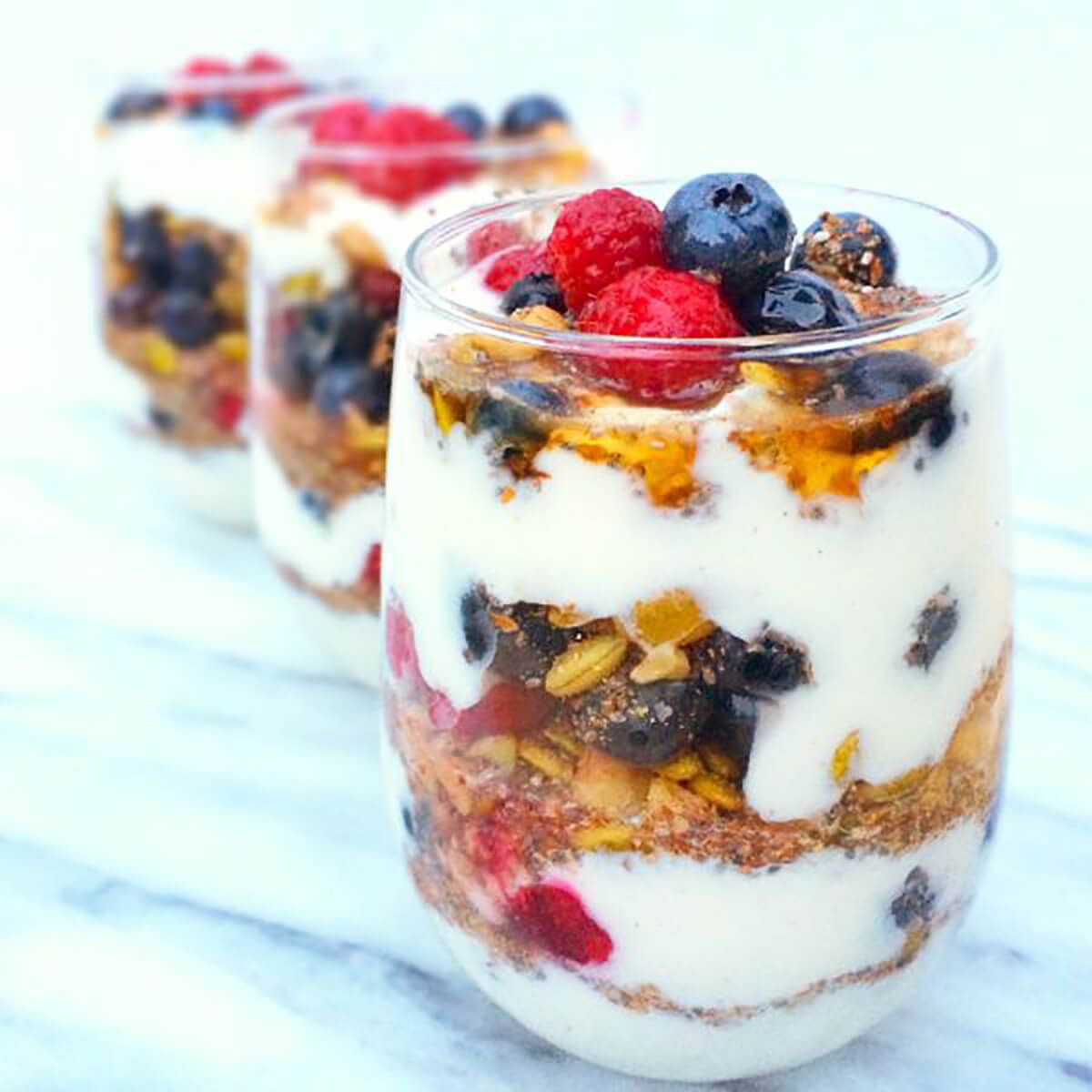 Meal 1| Egg White Veggie Omelette
Ingredients:
1/2c egg whites & 1 whole egg

1/2c chopped veggies of choice (broccoli, peppers, onions. mushrooms)

1/4c reduced fat shredded cheese

1/2c fruit or 1 slice of whole grain toast
Directions: Scramble eggs in a bowl. Sauté vegetables in a pan until cooked. Add egg scramble to pan with vegetables and allow the eggs to cook, sprinkle on some cheese and fold! Serve with a side of toast or fruit.
Meal 2| Greek Yogurt Parfait
Ingredients:
2/3c greek yogurt

1/2c berries

1/4c granola

1 small handful of nuts, or thumb sized serving of nut butter
Directions: In a bowl combine greek yogurt and berries. Top with granola and nuts or nut butter.
Meal 3| Strawberry Banana Overnight Oats
Ingredients:
¼ of a medium ripe banana, mashed

1/4c almond milk (or milk of choice)

1/4c nonfat vanilla or plain greek yogurt (dairy free yogurt also works)

1/2c cup gluten free rolled oats

1 tablespoon chia seeds

5 strawberries, diced

1 tablespoon almond butter
Directions: Add banana, almond milk and vanilla greek yogurt to a medium bowl and stir until well combined and creamy. Stir in oats, chia seeds and strawberries. Place in a container and store in the fridge overnight. Once ready to eat, top with almond butter and slices of strawberries or banana
Lunch: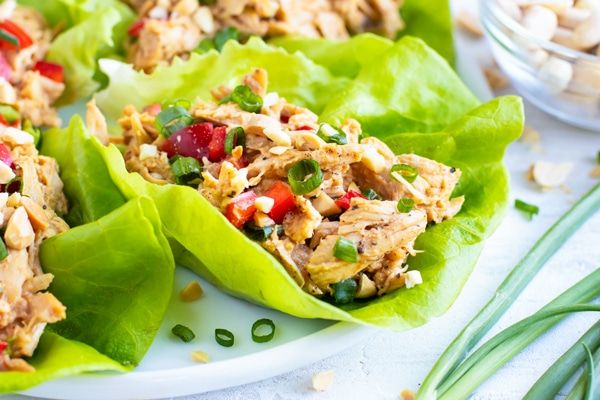 Meal 1| Spicy Peanut Superfood Salad
Ingredients:
1/8c quinoa (dry)

1/2c cucumber slices

1c greens

1/2c cabbage slaw mix

1 clementine/mandarin orange

1 small handful of peanuts (crushed)

1/4c sliced scallions

1-2 palm sized serving of chicken
Directions: Bring 1/3c of water to a boil & add in quinoa. Allow to cook until the water is fully absorbed. In a large bowl combine greens and the cabbage slaw mix, top with quinoa, cucumber slices, orange slices, scallions and crushed peanuts. Add your chicken & enjoy!
Meal 2| Turkey Wrap
Ingredients:
1 whole grain wrap

4oz low sodium deli turkey

¼ of an avocado sliced

1/2c spinach

1/4c sliced tomato

1Tbsp mustard
Directions: Spread mustard onto the wrap and add turkey. Line it up with sliced avocado, tomato, and spinach. Roll the wrap and slice. Serve with baby carrots or cucumber slices!
Meal 3| Chicken Avocado Lettuce Wraps
Ingredients:
2 large lettuce leafs

1-2 palm sized amount of rotisserie chicken (no skin)

1 thumb sized amount of hummus

1 small cupped-hand sized amount of tomatoes and cucumbers, diced

(on side) 1 small cupped-hand sized amount of fruit: blueberries, strawberries, watermelon, or a combination

Salt and pepper
Directions: Spread hummus on lettuce wraps. Add chicken and tomatoes and eat like a wrap.
Dinner: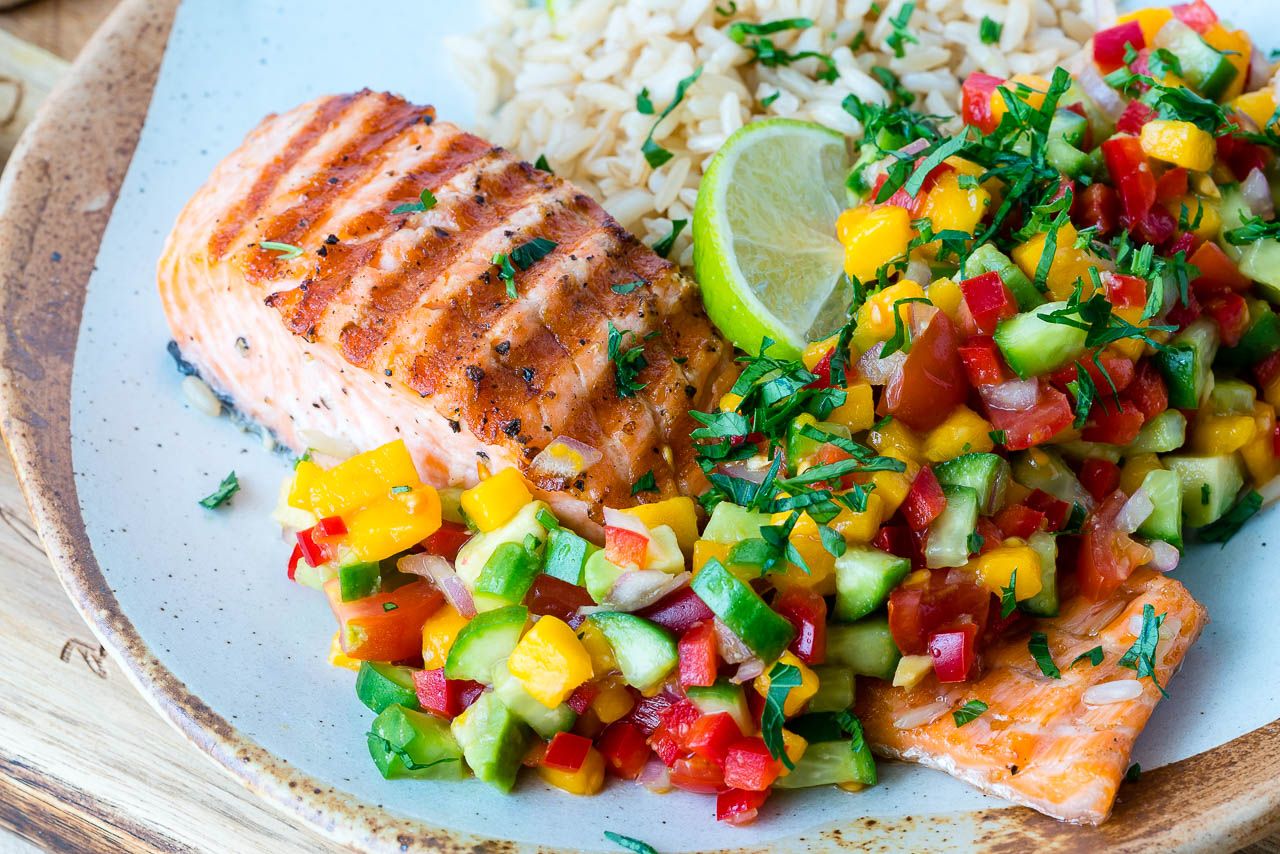 Meal 1| Buffalo Chicken Stuffed Sweet Potato
Ingredients:
4oz chicken (if cooking for more than one person, add more)

1.5 Tbsp buffalo sauce

1 Tbsp plain greek yogurt

½ tsp dill weed seasoning

1 Tbsp green onion

½ sweet potato

1/2c broccoli
Directions: Bake one sweet potato in the oven at 400 degrees for 30 mins or more depending on it's size. While the potato is cooking, cook your chicken. Once it is finished slice it into shreds and add your buffalo sauce. Once your sweet potato is finished, cut it in half. Save one half for tomorrow's lunch or to share. On the half your keeping, top it with your chicken, a dollop of greek yogurt, dill seasoning, and greek yogurt. Serve with 1/2c steamed broccoli.
Meal 2| Tuscan Chicken Bake
Ingredients:
Chicken breasts

2 zucchini

Cherry tomatoes

1 summer squash

2 tbsp pesto

1/4c reduced fat mozzarella

1/2c whole wheat pasta
Directions: Preheat oven to 375. Slice all veggies and combine in a large bowl. Add in pesto and stir until the veggies are well coated. Place chicken breasts in a large baking dish. Add the veggies on top. Bake for 25 mins, then add on mozzarella & cook for 15 minutes or until the chicken reaches an internal temp of 165. Serve over whole wheat pasta.
Meal 3| Honey Lime Salmon with Mango Salsa
Ingredients:
1 filet of atlantic salmon

1 tbsp lime juice

1/2tsp garlic

1/2Tbsp honey

1/2tsp ginger

1/2c jasmine rice

½ mango chopped

½ tomato chopped

¼ red onion chopped

1/4 cup chopped cilantro

1 jalapeno sliced (optional)

1 Tbsp lime juice

1/2tsp salt
Directions: In a small bowl, combine lime juice, garlic, honey, and ginger. In a pan over medium heat or on the grill, begin to cook your salmon, brushing on the marinade. Half way through. Cook each side for 3mins. While the salmon is cooking, in a small bowl combine mango, tomato, onion, lime juice, and salt. Mix well so flavors are evenly distributed. Cook your jasmine rice and add to a bowl, adding the salmon once its cooked, and topping it off with the mango salsa!
Snacks: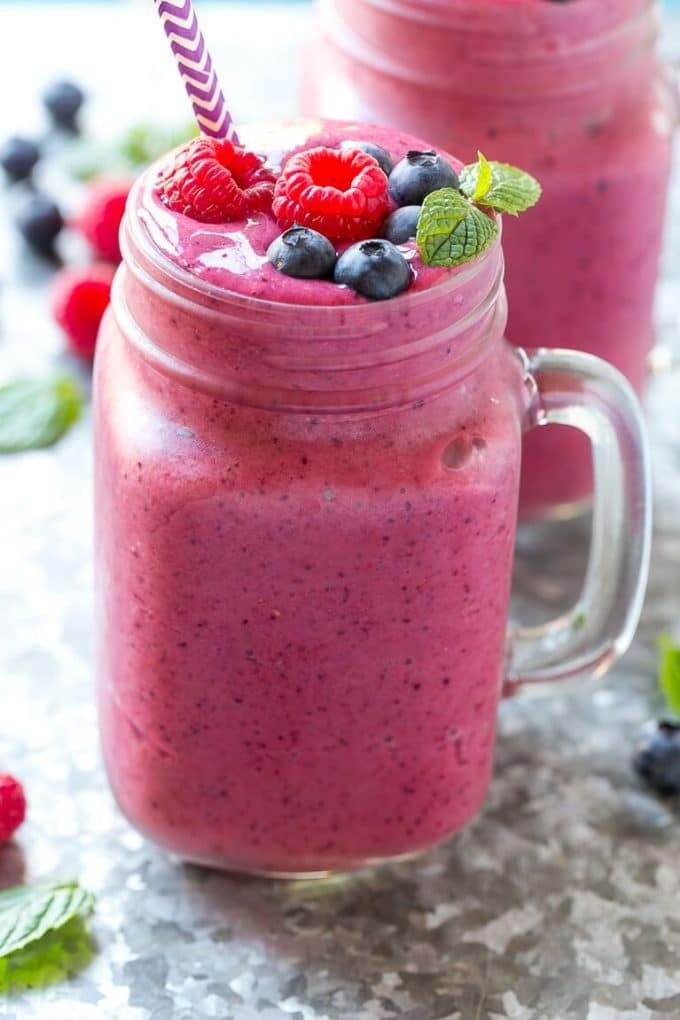 Snack 1| Chia Pudding
Ingredients:
½ cup blackberries

3 tablespoons chia seeds

1 cup unsweetened almond milk

¼ teaspoon vanilla extract

1 tablespoon unsweetened shredded coconut

10 raw, unsalted pistachios
Directions:
In a small mixing bowl, crush the blackberries with a fork so that they're the consistency of a thick jam. Add chia seeds, almond milk, vanilla extract, and shredded coconut. Stir everything together to combine, then transfer to a small airtight container and refrigerate overnight. When ready to eat, add pistachios!
Snack 2| Deli Turkey roll ups
Ingredients:
3 slices low sodium deli turkey
1 small handful of crackers
1 cupped handful of baby carrots
1Tbsp of hummus
Snack 3| Create Your Own Protein Smoothie
Ingredients:
Pick 1 Protein Powder (1 scoop): whey or plant based powder: chocolate, vanilla, strawberry

Pick 1 Frozen Fruit Source (1 small cupped-hand sized): blueberries, strawberries, dark cherries

Pick 1 Vegetable Source (1 fist size amount): spinach, kale

Pick 1 Fat Source (1 thumb size amount): peanut butter, almond butter, sunflower butter, unsweetened coconut, cocoa powder

Pick 1 Liquid Source (1 cup): unsweetened almond milk, coconut milk, water, oat milk
Directions: Blend and enjoy!
Our 8-Week Summer Ready Nutrition and Fitness Program starts April 26th!
Our Summer Ready Program includes:
Customized diet plan (learn exactly how to eat to lose weight and feel great)

Unlimited workouts (perfect for all levels)

One on one nutrition coaching

Results
Available at DSC or online!
Click below reserve your spot! ⬇️ Space is filling quick!