15 Healthy Recipes for Youth Athletes
In just a few weeks our Youth Winter Performance Camps are going to ramp up and we cannot wait to get going!
We are very excited to help our youth get active this winter and improve their health, fitness, athletic performance, and confidence.
One area that is just as important as our youth's fitness and activity levels, which we are going to work hard to improve this winter, is their nutrition.
We know how kids can be picky eaters regardless and then quarantine and schedule changes the last couple years haven't lent itself well to healthy nutrition habits.
We also know the importance of proper nutrition and it's impact on our youth's overall health, which is why we're to help!
We are excited to announce we will be including nutrition lessons to our winter camps, covering a variety of topics like how and why to eat a balanced breakfast, pre/post workout nutrition, how to read food labels, hydration, and more.
Now is the time to set the foundation for a lifetime of healthy nutritional habits!
In fact, research has shown eating the right foods at a young age can:
Create long-term healthy eating habits

Help children maintain a healthy weight

Prevent and decrease the risk of various diseases and illnesses

Improve digestive health

Improve sport performance

Improve daily energy

Improve cognitive function (memory, attention, learning)
To get you started, we've created a list of incredibly simple healthy eating recipes, that even the pickiest of eaters will LOVE!
Each meal and snack is designed to improve your child's health and give them the fuel they need to crush their day, sports, and workouts!
We've included heathy recipes for breakfast, lunch, dinner, snacks, and protein smoothies.
Enjoy :)
Breakfast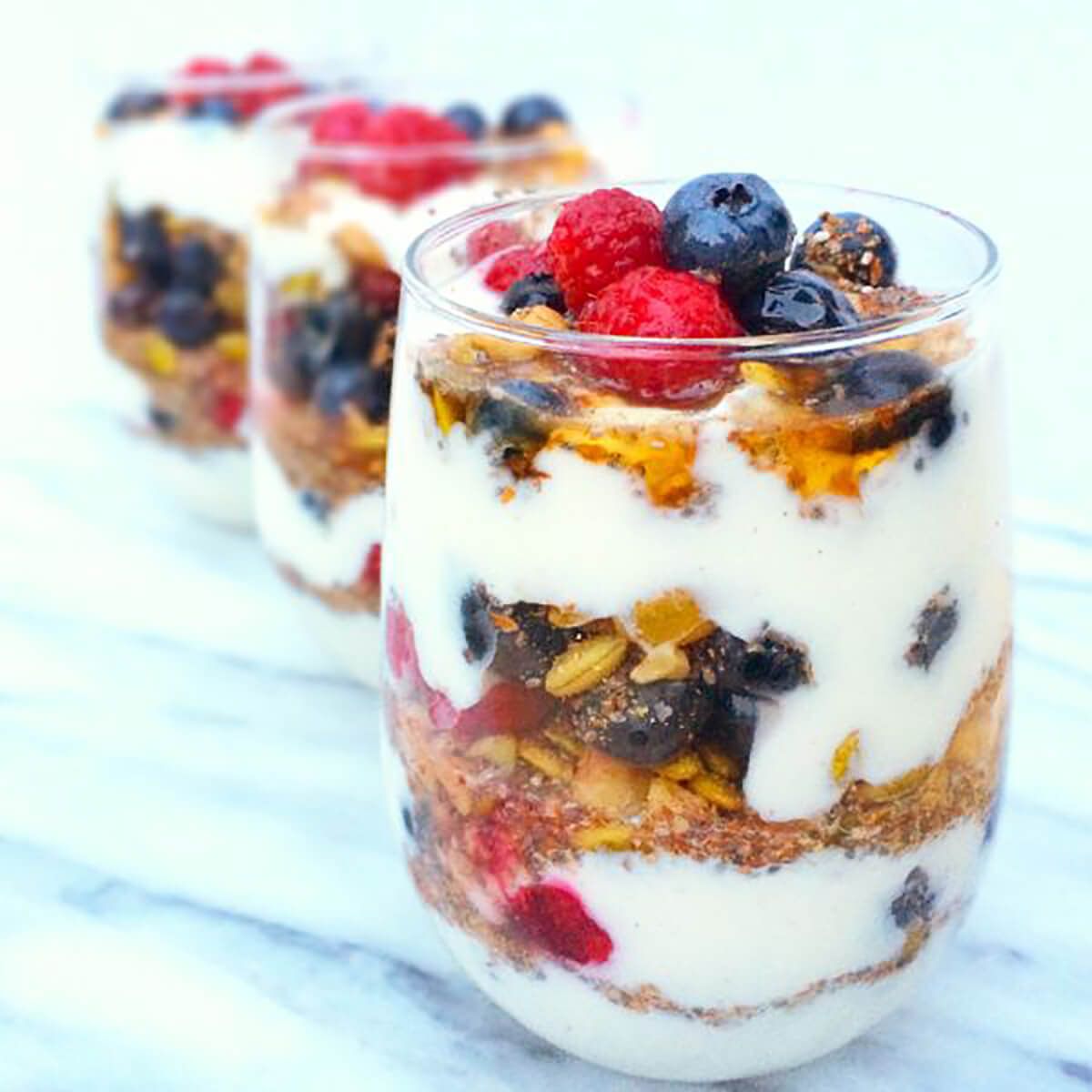 1| Waffle Sundae
2 protein waffles (Van's or Kodiak)

1/4c greek yogurt

1 cupped handful of blueberries or strawberries
Directions: Toast both waffles, then top with greek yogurt and berries.
2| Fall Protein French Toast
2 slices sprouted grain or gluten-free bread

3 egg whites

1/2 scoop vanilla protein powder

1/3 cup unsweetened almond milk

Cinnamon

1/2 tsp vanilla extract

1 thumb sized amount of maple syrup
Directions: Mix all ingredients (other than bread) together in a large bowl. Coat each piece of bread generously with mixture. Add to a pan over medium heat. Cook thoroughly. Drizzle on maple syrup when done.
3| Yogurt Parfait
Pick 1 Greek Yogurt (1 small cupped-hand amount): Plain or vanilla

Pick 1 Fruit (1 small cupped-hand amount): blueberries, strawberries, pineapple, banana, raspberries

Pick 2 Topping (1-2 thumb sized amount of granola, dark chocolate, shredded coconut)
Directions: Mix yogurt and fruit and enjoy!
Lunch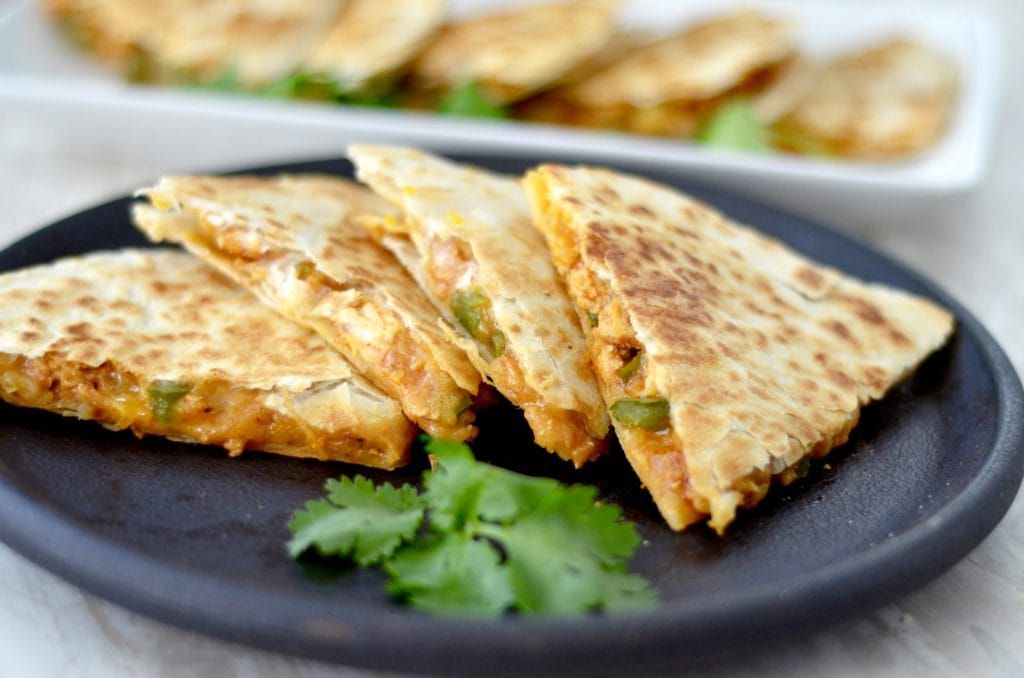 1| Protein wrap
1 whole wheat or gluten free wrap

1-2 palm sized amount of protein (chicken, turkey, steak, tuna)

1 thumb sized amount of mayo or hummus

Lettuce or favorite vegetable

Pick a side: 1 yogurt, cup of fresh fruit, 1/2 cup trail mix.
Directions: Add ingredients to wrap and enjoy.
2| Chicken Quesadilla
2 large tortillas

1-2 palm sized amount of cooked shredded chicken

1/4 cup shredded cheese

Pick a side: .5-1 cup rice, sweet potato, salad, fruit.
Directions: Place 1 tortilla on stove over medium heat. Add chicken and cheese and top with other tortilla. Once the tortilla starts to brown, cheese melts, and chicken heats, flip quesadilla and cook the other side.
Dinner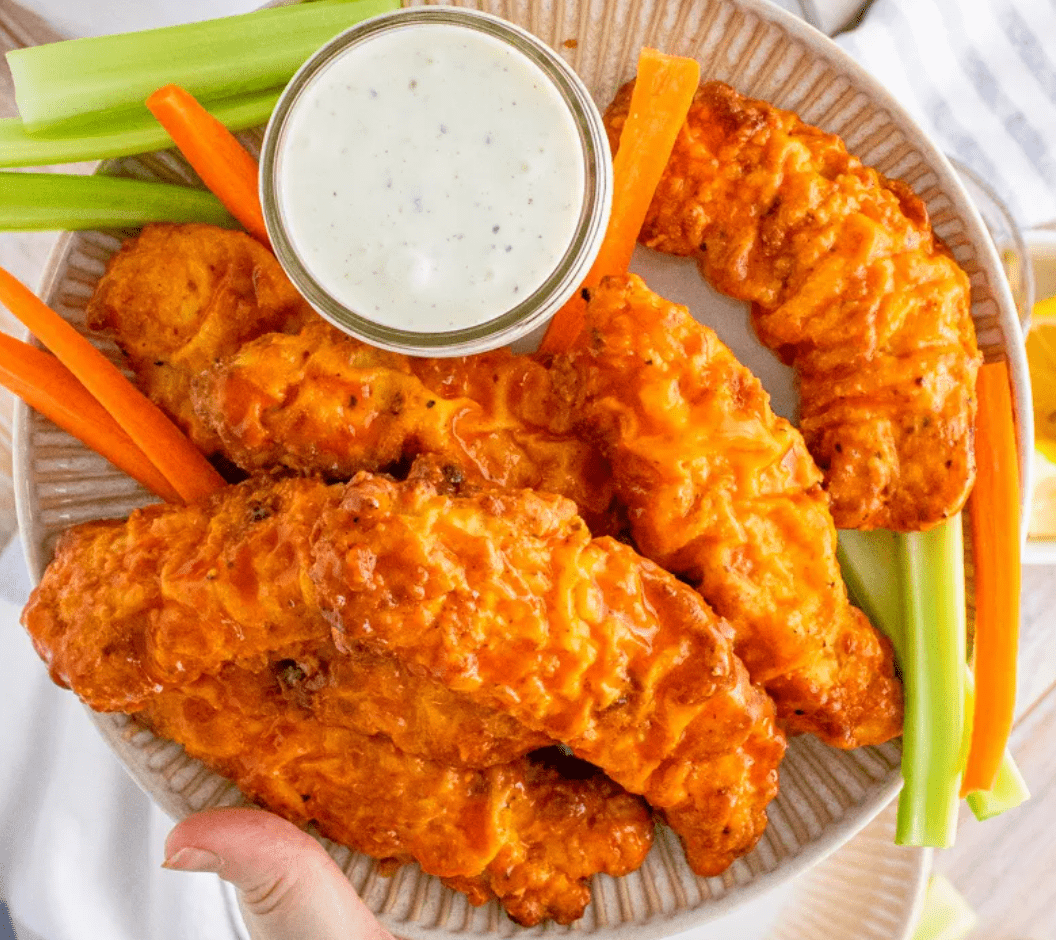 1| Healthy Buffalo Tenders
1lb boneless chicken breast (cut into tenders)

1tbs coconut oil

2tbs tomato paste

1/4 cup hot sauce - gluten free if needed (I use Frank's Red Hot Sauce)

2 tbsp grass-fed butter

Salt and pepper

5-10 celery slices (optional)

Sweet potato

Vegetable of choice
Directions: After cutting tenders, sprinkle them with salt and pepper. Add coconut oil to large pan over medium/high heat, brown chicken on both sides until cooked. Turn heat to low and add hot sauce, tomato paste and butter - if too thick add very little amount of water. Continue to stir until sauce is mixed. Enjoy!
2| Chicken Sausage Stir Fry
1 palm sized amount of sliced chicken sausage

1 fist sized amount of sliced green and red bell peppers

1 thumb sized amount of sliced avocado

1 small cupped-hand size amount of jasmine rice

1-2 thumb sized amount of salsa
Directions: Sauté chicken sausage, onions, and peppers in a pan until cooked. Cook white rice. Put white rice into a bowl or plate and top with chicken sausage, onions and peppers. Top with avocado and salsa.
3| Bison Tacos
1lb ground bison, turkey or grass-fed beef ** vegetarians sub with black beans

1 md sized onion diced

2-3 tsp of cumin

1tsp of paprika

1tsp of chili powder

1 clove of garlic crushed

Salt and ground pepper to taste

Jasmine rice (cooked)

Hard or soft shell tacos
Avocado and tomato salsa
2-3 avocado diced

1 tomato seeded and diced

1tsp of cilantro

Lime juice
Directions: Sauté onion in 1-2 tablespoon of EVOO. (Throw in a pinch of red pepper flakes if you like spicy). Add bison once onions are translucent and cook for 6-8 minutes or until meat is brown. Add seasoning (you may do this as you cook meat) & 1/3 cup of water. Allow mixture to cook on simmer 10 minutes or so stirring occasionally. The water will cook down. While meat is simmering on low, make the salsa. Mix all ingredients listed above. Microwave lime for 30 seconds prior to squeezing it over guacamole. Stuff meat and rice into taco, top with avocado and tomato salsa.
Snacks
1| Turkey Roll-Ups
4 slices of deli turkey

1 slice of Swiss cheese

1-2 fist sized portions of veggie slices

1 Tbsp roasted red pepper hummus
Directions: Add turkey to a plate and roll. Add cheese and sliced veggies. Dunk in hummus and enjoy.
2| Fruit and Nut Butter
Pick 1 Fruit (1 small cupped-hand size): apple, strawberries, banana

Pick 1 Nut Butter (1 thumb sized amount): peanut butter, almond butter, sunflower butter, cashew butter
Directions: Spread butter on fruit and enjoy!
3| Apple Cinnamon Protein Bites (makes 10 bites - eat 1-3 as a snack)
3/4 cup oats

3/4 cup sliced apple

1/4 cup almond butter

1 scoop vanilla protein powder

1/2 cup maple syrup

1 tsp cinnamon
Directions: In a food processor, process the oats and apples until resembles a powder. Add the almond butter, protein powder, syrup and cinnamon and continue to process until it forms a dough. Roll into balls and enjoy!
4| On-The-Go Healthy Snack Options
Beef Jerky

Low sugar protein bar

String cheese

Protein bar

Yogurt

Pretzel and hummus

Trail mix
Protein Smoothies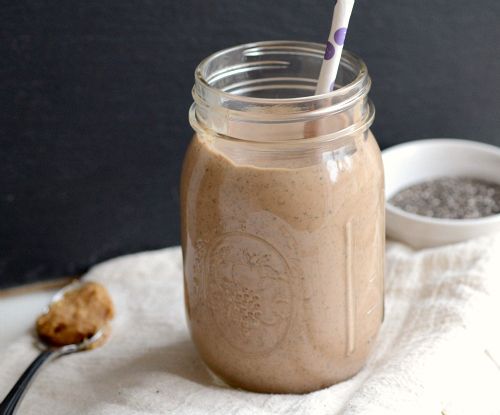 Protein smoothies make a GREAT meal or snack option. They are filled with muscle building protein, energy producing carbohydrates, and healthy fats.
The best part is, they taste great and your kids will have fun making them!
First: What protein powder do you need?
To get started you will need a protein powder. We recommend a whey, plant based, or collagen protein powder. When selecting your powder, aim for one that has greater than 15 grams of protein and less than 5 grams of carbohydrates per serving.
1| Chocolate Peanut Butter Blast
1 scoop chocolate protein powder

1 banana

1 thumb sized amount of peanut butter

1 thumb sized amount cocoa powder

.75-1 cup unsweetened vanilla almond milk

Handful of baby spinach (they won't taste it)

Ice if needed to thicken shake

Blend and enjoy
2| Strawberry Banana
1 scoop vanilla protein powder

1 banana

1-2 small cupped hand amounts of frozen strawberries

1 fist size amount of spinach

.75-1 cup unsweetened vanilla almond milk

Blend and enjoy
3| Build Your Own Smoothie
Pick 1 Protein: 1 scoop chocolate or vanilla protein powder

Pick 1 Fruit: 1 small cupped hand sized amount of frozen strawberries, cherries, blueberries, raspberries, bananas, pineapple, mango, etc.

Pick 1 Veggie: 1 handful spinach or kale

Pick 1 Fat: 1 thumb sized amount of peanut butter, almond butter, unsweetened shredded coconut

Pick 1 Liquid: .75-1 cup unsweetened almond, cashew, or oat milk

Blend and enjoy
Our 10-Week Winter Youth Performance Camps Start
December 13th! (ages 10-13 and 14+)
Register before November 22nd and SAVE 10%!
Click HERE to register!
(use promo code: Winter2021 at checkout)